Empowering Future Generations of Diverse Physicians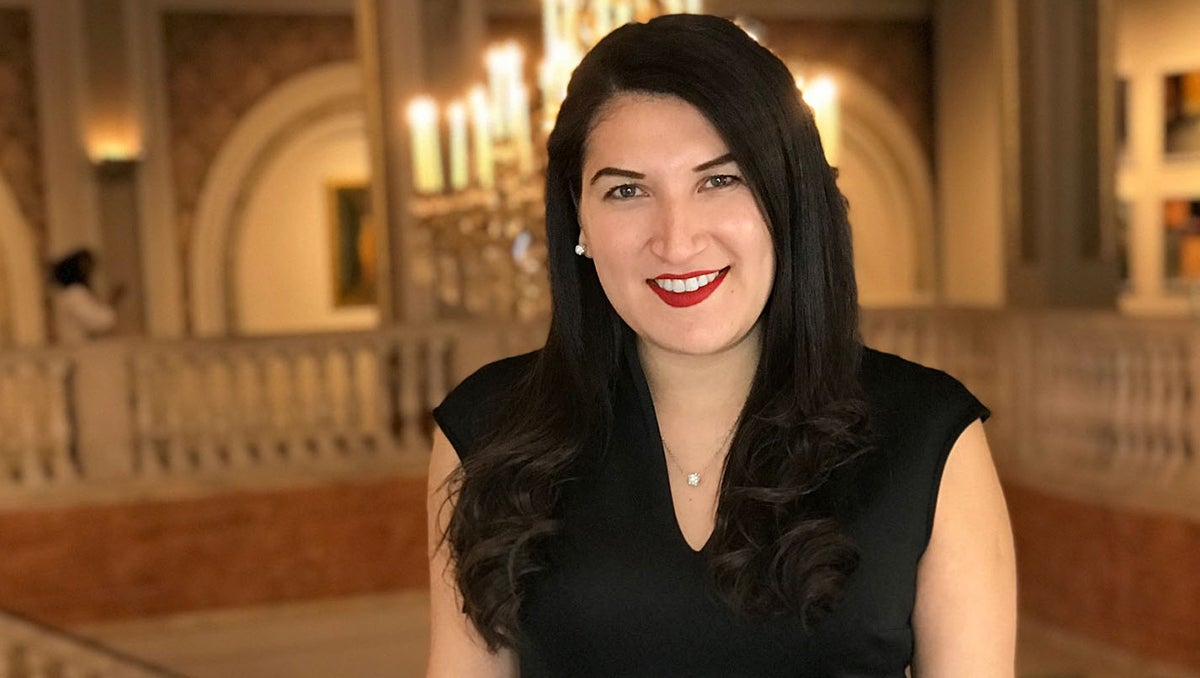 Posted in GUMC Stories | Tagged diversity, medical education, School of Medicine
(February 2, 2020) — With a background in higher education, personal experience as a first-generation college student, and extensive work with student populations from diverse backgrounds, Isela Melendez-Carpio, M.Ed., is eager to bring her expertise and passion to the School of Medicine's Office of Diversity and Inclusion (ODI).
Melendez-Carpio started her new role as the director of diversity and inclusion on January 2 and is focused on overseeing the growth of ODI's pipeline programs: the Academy for Research, Clinical, Health Equity Scholarship (ARCHES) and the Gateway Exploration Program (GEP), in partnership with DC Public Schools.
In addition to managing ARCHES and GEP, Melendez-Carpio is engaged in key training opportunities for students, faculty and staff around cultural competency and unconscious bias mitigation. She also leads ODI's monthly Health Equity Forums.
"I feel like this position encompasses all of my background," she says. "I'll be working with high school, undergraduate, and medical students, staff and faculty. I'm most excited about that aspect of the role, and having a diverse group of people that I get to work with directly."
Susan Cheng, Ed.LD, senior associate dean for diversity and inclusion, is thrilled to have Melendez-Carpio on the team.
"Isela brings expertise in pipeline development and youth development and cultivation. She is trained in higher education management and also brings personal experience as a first-generation student herself, which will enable her to build up robust networks with students, faculty, staff and alumni," says Cheng.
A Career Dedicated to Serving Students
Originally from El Salvador, Melendez-Carpio moved to the United States when she was 6 years old. She was raised in Arlington, Va., and attended the University of Richmond, where she studied political science and government.
After graduating from college, Melendez-Carpio dedicated a year to the AmeriCorps program, guiding high school students in underserved communities through the college application process. It was during this time that she became passionate about working with students on issues of equity and access.
Shortly after, she began working at Liberty's Promise, a nonprofit that assists immigrant students and their families in understanding the American education system through after-school programs and summer internships.
"For somebody who is new to this country, the system is not intuitive; especially if you're still trying to grapple with a new language, coupled with so many other factors — citizenship status, socioeconomic background, familial support — it can be very challenging to navigate," she says.
Melendez-Carpio also worked at the Posse Foundation, supporting students in their academic, personal and professional development. These combined experiences led her to pursue a master's degree in higher education administration at the University of Virginia.
"During graduate school, I really focused on honing in on my diversity and inclusion experience. Having worked with so many different student populations and families, I wanted everything to come together — which ultimately brought me here," Melendez-Carpio says.
Helping Students Thrive Through Community
As a first-generation college student, Melendez-Carpio understands the unique obstacles that students with diverse backgrounds and experiences face. She credits mentors and family in helping her achieve her goals, and hopes to provide the same support through her role at Georgetown.
"I've had a lot of people who have told me 'no' growing up, but a lot of people have also told me 'yes' and have supported me along the way. Those types of leaders, teachers and mentors are the reason why I'm here."
For Melendez-Carpio, the key to helping students thrive is centered on relationship-building and being open to others' diverse experiences.
"Relationships are so important. It's critical to understand where people are coming from in order to be an informed ally and advocate. It's been so rewarding to stay in touch with students" she says.
In her personal life, Melendez-Carpio has seen firsthand how support can make a difference in someone's life. "As a child of immigrants, it gives me so much pride and joy to see everything my parents sacrificed for me and my siblings come to fruition. I attribute my successes to their continued love and support. They inspire me every single day," she says.
Cultivating a Generation of Diverse Physicians
While Melendez-Carpio is new to medicine, she hopes to provide medical students with the support they need to flourish in and out of the classroom.
"Our society is much more diverse, and we need to start thinking about what that means," she says. "It's not just about recruiting students. It's about retaining them and supporting them along the way."
Melendez-Carpio also hopes to foster conversation around diversity and inclusion, which is especially important for future physicians hoping to work with diverse populations.
"We talk a lot about the cura personalis, care of the whole person. That's the essence of what we are doing here. You can't look at a patient without taking into consideration the context of their background and experiences."
Melendez-Carpio holds open office hours, and medical students can schedule an appointment at any time: https://calendly.com/directormelendezcarpio.