Eighth Annual Women & Wine Event Breaks Records
Posted in GUMC Stories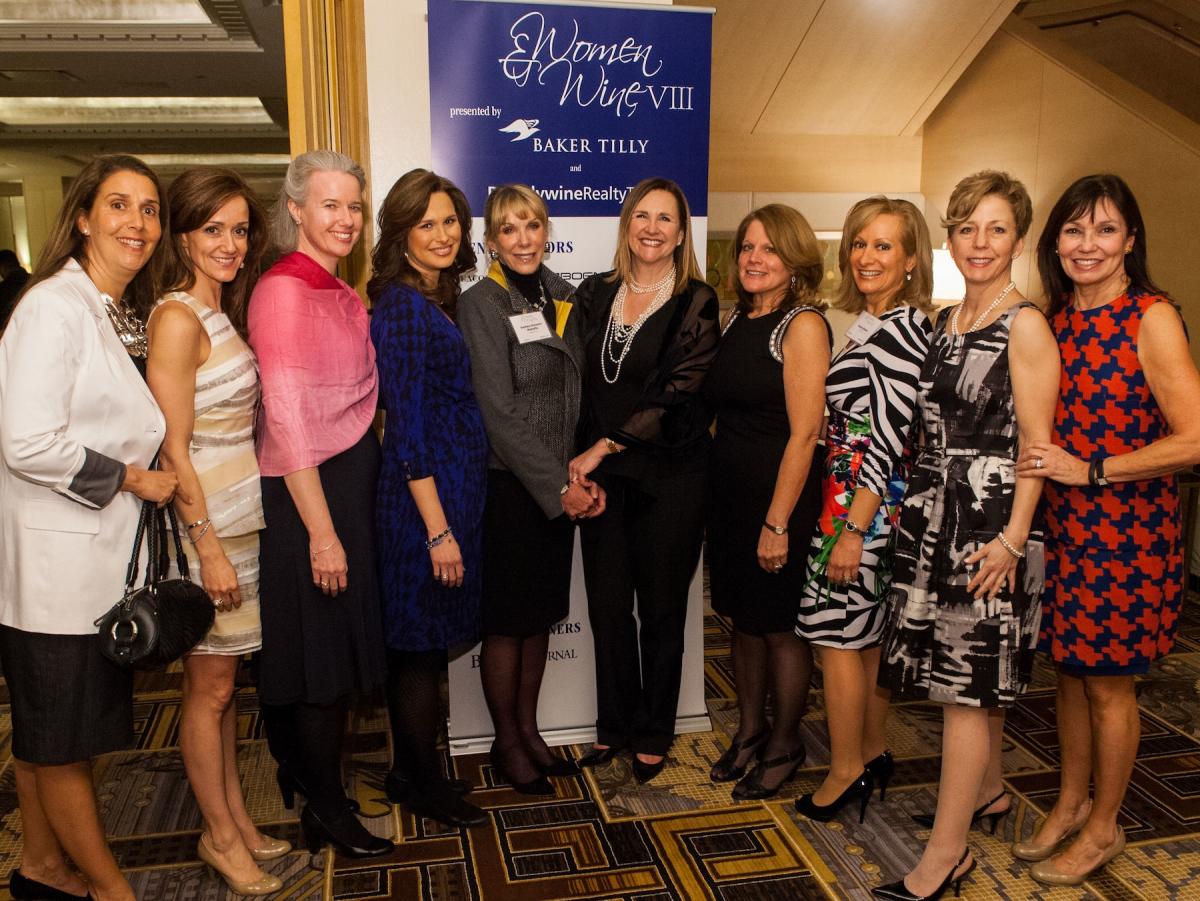 Over 400 of Washington, DC's leading businesswomen and breast cancer advocates gathered on March 11, 2013 at the Four Seasons Hotel in Georgetown for the annual Women & Wine event. Now in its eighth year, the event benefits Georgetown Lombardi Comprehensive Cancer Center's Nina Hyde Center for Breast Cancer Research. 
Since its inception eight years ago, the event has grown tremendously from the small group of women who first gathered at The Palm. This year, the event topped its records both for attendance and for money raised.  The event was sold-out through word of mouth before invitations were even printed and brought in an estimated $225,000.
This year, Women & Wine's co-chairs were Janet Davis of Brandywine Realty Trust and Barbara Schaefer McDuffie of Baker Tilly.
The evening began with a briefing by Georgetown Lombardi Associate Professor Claudine Isaacs, MD, co-director of the Nina Hyde Center, and Georgetown Lombardi member Shawna Willey, MD, director of the MedStar Regional Breast Cancer Surgery Program, and vice-chair of the department of surgery at MedStar Georgetown University Hospital. Isaacs and Willey discussed the latest cancer research breakthroughs that affect women, specifically breast cancer. 
Isaacs also described how in recent years the event has provided a vehicle for enhanced collaboration between researchers and volunteers in the community. 
She noted that in 2012 for the first time senior researchers from the Nina Hyde Center met with the executive committee of Women & Wine to discuss how the event's proceeds should be allocated.
The outgrowth of that discussion was a series of pilot projects that were peer-reviewed and funded with money raised from last year's event. Isaacs briefed the women on the progress of the projects, which included studies on how BRCA1 and BRCA2 function in relation to diet; determining if there are blood markers for whether lymph nodes are involved at the time of a breast cancer diagnosis; and research into a technique that could potentially lead to fewer surgeries called sentinel lymph node biopsy.
"These research projects are tangible evidence of what development funds can do, they can really do fantastic things. These projects were completed by junior investigators that you all have helped to get the information they need to move forward," said Isaacs.
Pointing to another great example of the power of collaboration between the scientific community and the public, Isaacs also lauded the work of the Georgetown Lombardi Breast Cancer Patient Advocacy Group, a group of breast cancer survivors and advocates who meet monthly and often assist Georgetown Lombardi researchers with input and grant reviews.  
Willey expressed her belief that, in coming years, breast cancer research will focus more on learning about the different subtypes of breast cancer and on individualizing treatment. Responding to any notion or public perception that breast cancer is being over-treated, Willey countered: "Women are still dying [from the disease]."
Isaacs and Willey agreed that they see 500 to 700 new breast cancer patients each year. 
The rest of the evening consisted of a silent auction and cocktail hour followed by a seated dinner and an awards ceremony hosted by Alison Starling, co-anchor of WJLA-TV's evening newscast. 
Daphne Baker of the National Cancer Prevention Fund was presented with an award of appreciation for her work in founding the Women & Wine event eight years ago. She thanked McDuffie for her dedication to the annual event and quoted broadcaster Donald H. McGannon in saying, "Leadership is action, not a position" to applaud McDuffie and the women at the event.
The Eighth Annual Women & Wine was supported by presenting sponsors Baker Tilly and Brandywine Realty Trust, and by event sponsors Beacon Capital Partners; Bognet Construction; Brookfield; Clark Companies; and Latham & Watkins, LLP. 
By Sarah Kana, Georgetown Lombardi Communications
(Published March 20, 2013)