Dynamic Interdisciplinary Session Brings Together GUMC Students
Posted in GUMC Stories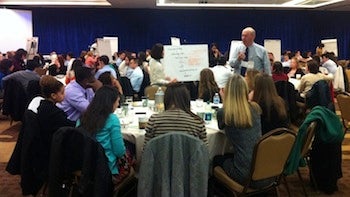 January 30, 2014 - A recent session brought together 360 students from across Georgetown University Medical Center (GUMC) for a day of interprofessional education, development, and team-building.
Medical students from the School of Medicine and nursing and health systems administration students from the School of Nursing & Health Studies attended the daylong interdisciplinary educational event that focused on enhancing learning about communication and collaboration across the disciplines.
Howard J. Federoff, MD, PhD, executive vice president for health sciences and executive dean of the School of Medicine at GUMC, was one of the event facilitators. He notes that the health care context will look "dramatically different" for future practitioners and administrations and that the Affordable Care Act is increasing the demand for high-quality, affordable, and collaborative care.
"The ability to meet this growing need is directly and intricately tied to interprofessional, team-based education," Federoff says. "At GUMC, we are taking every opportunity to break down the silos between disciplines and to provide our nursing, medical, and health professional students with a more holistic approach to care that enables them to learn side-by-side in clinical settings."
Circle Grant
Bernard Horak, PhD, FACHE, professor of health systems administration and graduate program director, and Shyrl Sistrunk, MD, associate professor of medicine and senior associate dean for curriculum and assessment, co-led the event as part of the Curricular Innovation, Research, and Creativity in the Learning Environment (CIRCLE) Grant Program funded through GUMC. They are grant principal investigators.
"Effective teamwork is necessary to achieve the Institute of Medicine competencies for care that is timely, safe, effective, efficient, and equitable," says Sistrunk. "Our integrated experience explores our foray into this practice in a structured way for the students of multiple health professions."
Horak echoed Sistrunk's sentiments.
"Objectives included improving the students' knowledge and attitudes about roles of various health professionals, providing tools for effective teamwork, and learning approaches to improve health care quality and patient safety," says Horak.
Other faculty leaders included Patricia Cloonan, PhD, associate professor of health systems administration and department chair, Lois Wessel, MS, RN, CFNP, instructor of nursing, Peggy Compton, PhD, RN, FAAN, professor of nursing and interim associate dean of academic affairs, Catherine Okuliar, MD, associate professor of medicine, and Bhumika Gandhi, MD, assistant professor of internal medicine and pediatrics at MedStar Georgetown University Hospital.
A New Appreciation
Throughout the day – called the Interdisciplinary Educational Experience (IDEE) – students were placed in interdisciplinary small groups. They interacted on a series of exercises and case studies facilitated by faculty and hospital staff representing several health care professions.
"When the day ended, I believe every student present, including myself, harvested a new appreciation of the concept of interdisciplinary teamwork," says medical student Donovan Johnson (M'15). "I am confident the skill sets I used during the event will prove to be valuable in my future career in health care."
Amjaad Al-Hussain (G'15), who is earning a master's in health systems administration, says she loved the IDEE event.
"I believe Georgetown University's uniquely designed learning experience aims to correct our industry's self-destructive communication gap that can be remedied with early interdisciplinary learning and engagement," she says. "I feel privileged to be part of an institution that values interdisciplinary work and is preparing us to lead our future teams with effective communication and teamwork."
'Truly Eye-Opening'
Ana Saavedra (NHS'14), a nursing student, added that the day helped her feel more comfortable working with others on the health care team.
"I can say that I feel more comfortable working with doctors to provide the best quality of care for patients," she says.
Joseph Riggs (NHS'10, G'16), who is pursuing a master's degree in health systems administration, says the day was "truly eye-opening" and allowed him to see how other professionals in the health care industry viewed health administrators.
"Health administrators, nurses, and doctors are all on the same team – for the team to succeed, all members must work together as one, cohesive unit," he says.
By GUMC Communications