GUMC Discovery Chosen for Time's Top 100 Scientific Findings
Posted in GUMC Stories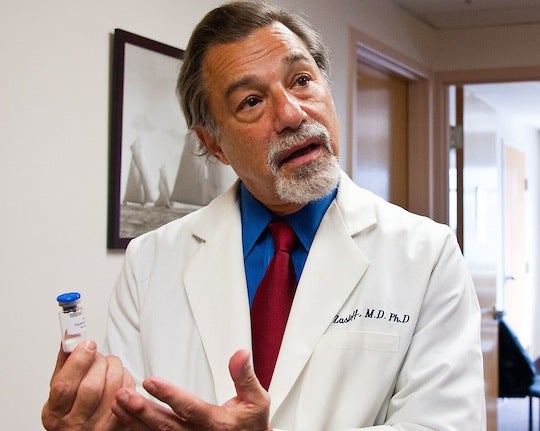 A discovery made by Georgetown University Medical Center scientist Michael Zasloff, MD, PhD, has been included in Time Inc.'s book, "100 New Scientific Discoveries; Fascinating, Momentous and Mind-expanding Stories."
The discovery, first published in the Proceedings of the National Academy of Sciences in September 2011, describes a compound initially isolated from sharks by Zasloff's group, that could potentially serve as an agent to treat human viruses.
"To realize squalamine's potential as a broad antiviral is immensely exciting because we know from its use in treating cancer that it's safe in humans," says Zasloff, a professor of surgery and pediatrics at Georgetown University Medical Center and co-director of GUMC's Center for Translational Transplant Medicine.
In both lab and animal experiments, the compound effectively demonstrated activity against human viruses ranging from dengue and yellow fever to hepatitis B, C and D, some of which cannot now be effectively treated.
The Time book covers "the 100 most interesting discoveries" in fields such as chemistry, zoology, medicine, psychology, archeology, astronomy and technology.
"All of [the discoveries] will leave us better, healthier, or just plain smarter than we were before," the introduction reads.
"Obviously, I was very pleased that our work was included along with other fascinating scientific findings," Zasloff says.
Clinical trials to test squalamine as an antiviral are currently being planned..
By Karen Mallet, GUMC Communications
(Published May 02, 2013)