Decoding what Other People "See" in Faces After Plastic Surgery
Posted in GUMC Stories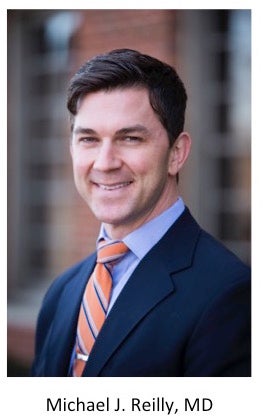 April 9, 2015 — Michael Reilly, MD (new window), freely admits he loves faces. In his first year of medical school at the University of North Carolina, Chapel Hill, he aced head and neck anatomy. "I got the best grade of the whole year in that course," he says, adding that he is simply a "people person" who loves to communicate with others, "and the face is your window to the world."
So it is no surprise that he became a facial plastic surgeon. After Chapel Hill, Reilly came to Georgetown for a five-year residency in otolaryngology — ear, nose, throat, head and neck surgery. He then did a fellowship in facial plastic and reconstructive surgery at University of California, Los Angeles.
Reilly has now been on the faculty at Georgetown's School of Medicine (new window) as an assistant professor of otolaryngology-head and neck surgery for nearly six years, and sees patients at MedStar Georgetown University Hospital (new window).
The majority of his work (90 percent) is helping patients whose faces are disfigured due to trauma or cancer surgery. "My heart aches for these patients because I know how impaired they are in trying to interact with the world," he says. The other 10 percent is devoted to cosmetic surgery, which Reilly also finds rewarding.
But he wants more than just repairing or rejuvenating faces. Reilly wants to know what facial surgery is actually doing for a patient.
"I go to national meetings for facial plastic surgeons and everyone talks about how they do their facelifts," he says. "But there is very little talk about what we are accomplishing when we do this. We have extensively studied the ways in which we are able to manipulate anatomy, but what we haven't adequately studied is the effect that manipulation may have on our patients' lives.
Except for patient satisfaction, there are very few studies that assess the success of cosmetic surgery."
Adding science to the art of cosmetic surgery
So Reilly undertook a study — the first, he says, that tests how others perceive faces that have had cosmetic surgery. It was published April 9th in JAMA Facial Plastic Surgery, one of the top journals in his field.
In the study, investigators showed 170 participants photos of 30 Caucasian women before and after plastic surgery. The reviewers rated their perception of personality traits in the woman featured in the photos — variables such as social skills, likeability, trustworthiness, attractiveness and femininity.
No reviewer saw two photos of the same woman, and no one knew whether plastic surgery had been performed. The various types of facial rejuvenation surgery included facelifts, upper and lower eye lifts, brow lifts, neck lifts, and chin implants.
Reilly and his team found that, overall, women who had undergone facial rejuvenation surgery were
perceived as having greater social skills and are more likeable, attractive and feminine.  While not statistically significant, a trend toward trustworthiness also was seen.
"Having a facelift and lower eye lift were the two procedures that appeared to garner the most favorable reviews after surgery," Reilly says.
Attempts were made to determine factors that appear to have yielded less favorable responses, but no single variable appeared to be statistically significant, Reilly says. However, some patients were rated for increased aggressiveness and risk-taking after surgery. "Some might say that is negative, but others may want that look."
He adds that some patients in the study had more favorable results before facial surgery.
Surgery that alters facial perception
Reilly talks about the "aura" of faces — a sense of a person that others perceive without being aware of it. "The aura is an evolutionary survival response. Our instincts tell us to avoid others who are ill-willed, a judgment made from an individual's neutral expressions," he says.
"Our brains are making judgments about people constantly— it is human nature. But what we don't know is what we are judging and why we are judging it to be positive or negative," he says.
Reilly's study is the first to delve into perceptions of real faces that have undergone change — to date, such studies have only been done with computer-based facial modeling studies.
"Wouldn't it be nice to know what works best for the perception of certain personality traits?" Reilly posits. "In general, I think cheek fillers probably make people look a little more likeable and a little more socially skilled because they give a bit of a happier appearance. And I believe that a neutral face that has an upturn at the corner of the lips, like the beginning of a smile, is going to be perceived as friendlier. But am I right?
"In my dream scenario, we get this all figured out and we can really help give patients what they want," he says. "It will take a lot of study to really understand what we are doing when we do cosmetic surgery."
Reilly believes people should not judge others who seek cosmetic surgery. "It is not superficial to do something for your own wellbeing — a person's desire to be perceived differently may deeply affect their overall state of mind.
"Ultimately, our job should be to offer cosmetic surgery that works," he says.
 By Renee Twombly
GUMC Communications