Dahlgren Memorial Library Serves As Champion of Student Needs in the Digital Age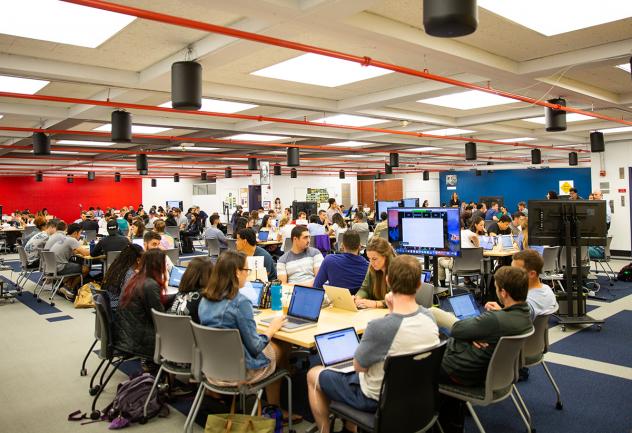 Posted in GUMC Stories | Tagged Dahlgren Memorial Library, School of Medicine
(October 20, 2018) — How did Georgetown University Medical Center's Dahlgren Memorial Library (DML) become the third most visited medical library in the nation — even among institutions with a greater number of health sciences programs?
As the central repository of knowledge and the pre-eminent study space for health sciences students across Georgetown's School of Medicine, School of Nursing & Health Studies, and Biomedical Graduate Education programs, DML must support a wide array of priorities and interests. Founded in 1912, the mission is and has always been supporting research, education and patient care.
According to Jett McCann, MLS, CKM, DM/AHIP, senior associate dean for knowledge management at Georgetown University School of Medicine (GUSOM), it's a student-centric approach that allows DML to maintain its role as a key part of Georgetown University Medical Center's culture and intellectual pursuits.
Creating a Home Away From Home
Among the other 155 academic health sciences libraries in North America, few are open 24/7 and even fewer keep the entire building open 24/7. Not only is DML devoted to maintaining 24-hour access for students and other users, it allows eating and drinking on all floors, a recognition that libraries should adapt to the needs of their patrons, not just those who manage them.
In doing so, DML serves as a de facto home away from home for many medical students at Georgetown. That contributes to the over 1,200 average visitors to the library each day, a statistic from the Association of Academic Health Science Libraries of which McCann is extremely proud, especially since many peer libraries support greater numbers of students through public health, pharmacy, dentistry, and physician assistant degree programs.
Nearly 10 years ago, McCann began working with C. Scott Dorris, a research services coordinator and designated student liaison librarian at DML, to provide pre-exam breakfasts twice a semester for both first- and second-year medical students, and students in the Special Master's Program (SMP). When a class of 200 people show up for their exam, McCann, Dorris, and "Team DML" provide every single one with bagels, fruit and coffee. In addition, McCann annually provides around 2,400 pieces of Halloween candy to give out at the front desk of DML around Halloween as well as candy canes at Christmas time.

Modernizing the Library's Resources and Facilities
As part of the effort to redefine the library to meet student needs, DML went from having 80,000 outdated and little-used print books to a collection of under 5,000 print, but 5,500 e-books. In addition, journal subscriptions increased from a collection of 1,200 print plus online subscriptions, to over 6,500 e-journal subscriptions. McCann credits Linda Van Keuren, assistant dean for resources and access management at DML, for negotiating with publishers to ensure Georgetown gets the most affordable journal access prices on behalf of its students. Over the past six years, she has saved $1.6 million in resource funds, and is a nationally recognized expert. "You do not want to bargain with Linda. And next time you buy a car, you want to take her with you," McCann said jokingly.
DML also used a National Network of Libraries of Medicine grant to acquire a "baby" 3D printer, which has been used by faculty members, including a project to help teach students about breast cancer. The library's innovations lab, led by Taeyeol Park, PhD, pioneered implementation of CANVAS into course content management and hosts dozens of workshops throughout the year. Topics include copyright protection and open-access journal models. Katherine Greene, a DML librarian since 2014, holds multiple certificates on copyright and is considered an expert in the topic.
One of the biggest changes at the library in recent years has been the remodeling of its second floor, transforming it into a collaborative space known as the Plancher Team-Based Learning Suite. Working with Stephen Ray Mitchell, MD, MBA, dean for medical education; Mary Furlong, MD, senior associate dean for curriculum; and Jessica Jones, PhD, co-chair of the GUSOM Committee on Medical Education, the Plancher Team-Based Learning Suite incorporates many of the characteristics of a next-generation library with an emphasis on responding to student success needs.

The large space is free of any book stacks, and instead is filled with tables, comfortable chairs, electrical outlets, whiteboards on wheels and 20 42-inch TV monitors with computers attached to them. It is organized according to the School of Medicine's learning societies, which hold meetings there throughout the semester. During those sessions, students at each table work on problems with one another and can share their answers with those at other tables to promote collaboration.
During a recent learning session on cytogenetics and molecular genetics testing, guests from the National Institutes of Health helped facilitate the lesson, which was led by Bassem Haddad, MD, a cytogeneticist and professor of oncology at Georgetown University Medical Center.
"Amazing," said Haddad when asked to describe the space. "We wouldn't be able to do this work without it." The entire space — from asbestos abatement to furniture to sound system — was paid for by donations. Lead donors of the project include Kevin (G'82, M'86) and Jill Plancher. Additional donations came from the School of Medicine Class of 1981, Tom (G'89, M'93) and Katrina Scilaris, Othon Mourkakos, and Naomi Broering, who served as director of DML from 1975-1997.
When the Plancher Team-Based Learning Suite is not occupied for a learning exercise, it is a heavily used study space. Twice a year, DML has therapy dogs there for medical students to pet and cuddle for two hours, providing comfort and solace during what can be an extremely stressful time for them.
DML works closely with the GUSOM Student Executive Council and the council's Beautification Committee, as well as the GUSOM Parents Council, which is led by Mitchell. The Parents Council has generously funded numerous projects to improve student life in DML.
From Naval Officer to Seasoned Librarian
In addition to serving in the Navy and Navy Reserve for 42 years, McCann earned a library science degree from the University of North Carolina at Chapel Hill (UNC) and later worked at several academic libraries, including at medical schools in North Carolina, South Carolina and Georgia. He also held a position as an executive in the corporate world of publisher services. While interviewing McCann for his current role, Mitchell bonded with him over shared military backgrounds and as UNC alumni.
Twelve years later, not only has McCann worked to tailor the design and infrastructure of the nearly 50-year-old DML building to meet 21st century medical student needs, but he has also personally mentored dozens of medical students as a preclinical advisor.

Moreover, since McCann arrived turnover for librarians at DML has decreased dramatically. No librarians have left since 2014. As part of their performance appraisal every year, McCann asks all DML staff to take their current position description, cross out the duties they no longer perform, and write in the things they are actually doing so that they receive credit for doing them and stay current. As part of this process, McCann also wants to know what staff want to do, including "coloring outside the lines" — empowering them to grow and carve out parts that give them the most satisfaction.
This commitment to engagement and recognition is part of what helps McCann keep staff focused and dedicated to being stewards of each student's intellectual journey all the way through graduation.
"If you dial it all back, the other three medical libraries I worked at, we rarely knew a student by name and they didn't know me. It was as if we didn't care what the students wanted, but told them what they needed," McCann said.
"That's not here," he concluded.
Seren Snow
GUMC Communications