Cura Personalis Award Recipient: HIV/AIDS Epidemic Taught Me to be a Better Person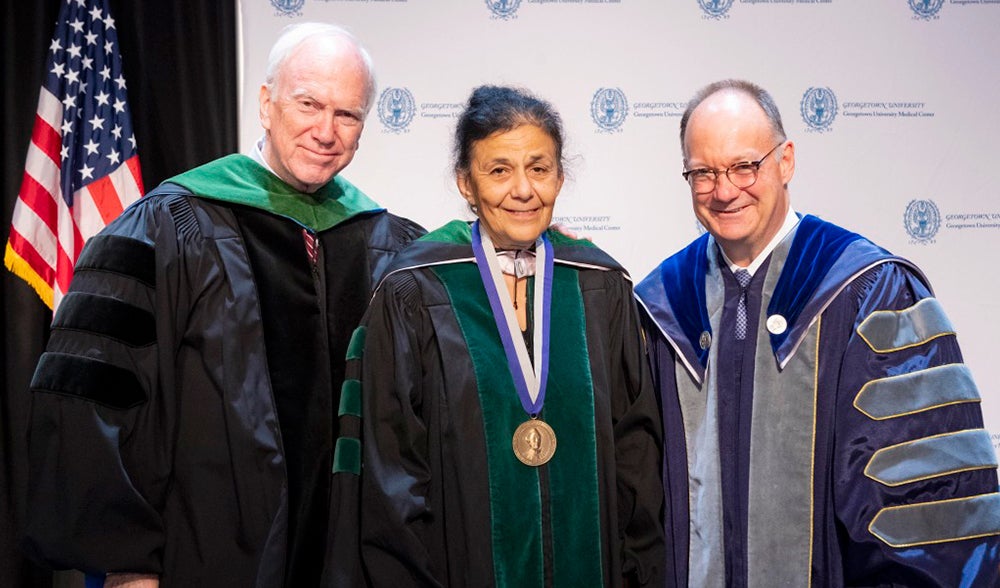 Posted in GUMC Stories | Tagged Convocation 2019, cura personalis, HIV
(November 27, 2019) — When Wafaa El-Sadr, MD, MPH, MPA, reflects on her graduation day from medical school at Cairo University many years ago, she admits that her perception then about what it meant to be a physician differed greatly from reality.
The infectious-disease trained doctor, who leads ICAP — a global health center at Columbia University she founded in 2003 to improve the health of families and communities — says the HIV/AIDS epidemic "upended" her smooth career trajectory.
"It simply changed everything. It changed my life in many, many different ways and shaped my career here."
For achievements in her career, including significant scientific contributions and personal commitment to understanding better ways for addressing the HIV/AIDS epidemic and the people it affected, Georgetown University Medical Center bestowed upon El-Sadr its highest honor, the Cura Personalis Award, at the Twelfth Annual GUMC Convocation on November 18.
Compelled by Disparity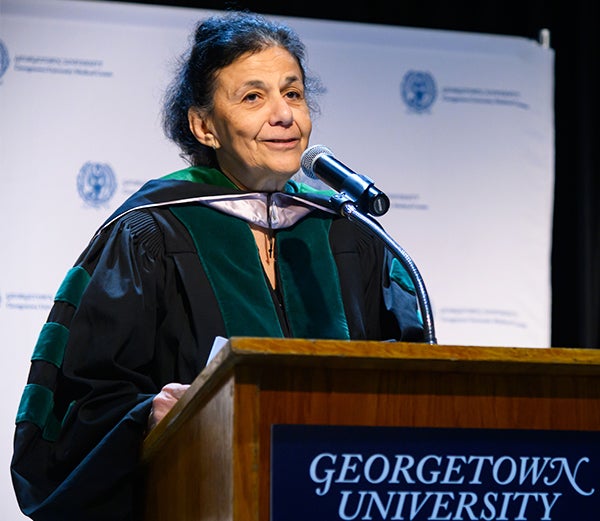 While she's currently University Professor of Epidemiology and Medicine at Columbia University and the Dr. Mathilde Krim-amfAR Chair in Global Health, in the 1980s, El-Sadr was beginning her career at Harlem Hospital. "Here I was, an optimistic young physician in New York City in the 1980s … facing the horror of this epidemic — something I was not even remotely prepared for," she said during her keynote address.
El-Sadr describes the current number of people living with HIV as "numbing." There are more than 37 million people alive with HIV around the world. Two-thirds of them live in Africa; there are a million people with HIV in the United States. Globally, nearly 1 million people died of the disease this past year.
El-Sadr quickly points out that in the early 2000s, the situation was even more dire, particularly in Africa.
"I have vivid memories of walking down the halls of the sprawling public hospitals," she recalls, describing people on mattresses and on the floor, faces ashen, women with babies — all sick with AIDS. "There was absolutely no evidence of any hope. There was also none of the bustling energy and vibrant music and cadence so familiar and so cherished in Africa.
"I saw the stark evidence of pain, suffering and hopelessness. This was compounded by a sense of despair by the providers themselves … who had nothing to offer to their patients beyond comfort and some encouragement." What she witnessed was in dramatic contrast to what was happening in places like the United States.
"All I could think of in those early years is that things did not have to be that way," El Sadr says, explaining that lifesaving treatments were available for those living with HIV and that strategies already had been developed to prevent the transmission of HIV from a pregnant woman to her baby.
"The tragedy is that these same medicines were not available to the millions and millions who urgently needed them," she says. "This tragic disparity compelled us to act."
Proving the Naysayers Wrong
Despite how intuitive their approach to exporting HIV/AIDS care seemed, El-Sadr says she was met repeatedly by naysayers.
"Again and again, we heard the word 'no.' We heard that no, people with HIV in Africa would not be able to take their medicines regularly. No, it was not possible for the few available doctors and nurses to provide care for a complicated condition. We were told no one would show up at the clinics due to the high levels of stigma and fear. No, the medicines are too expensive and have too many side effects. No, there's rampant corruption and resources will be misused. No, this would not be sustainable."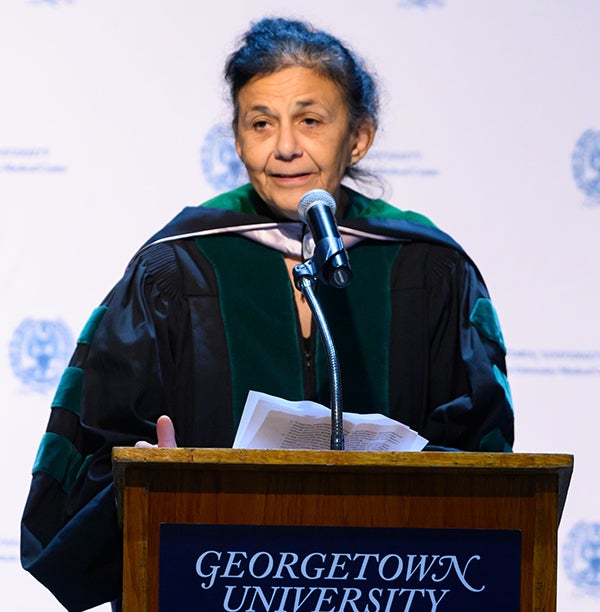 El-Sadr remembers hearing the same resistance years earlier in Harlem.
"No, poor people will not be able to take such complex treatment or engage in the follow-up needed. No, gay men deserve to get HIV. No, drug users are irresponsible and will sell their medicines on the street. No, poor women with HIV should not be allowed to have children."
Ultimately, El-Sadr says, "It was the people of Harlem who proved the naysayers wrong," and once again, "it was the people in Africa who proved the naysayers wrong."
"Amazingly, the collective effort of so many, including people in this audience here today, helped raise the resources, put in place the programs, establish the partnerships that have resulted in a remarkable number of people with HIV who have access to treatment," she says.
But once again, as El-Sadr says, it was the people who achieved what no health worker could.
"It was the people living with HIV themselves who walked over mountains and crossed streams and valleys to get the care they need. They came because they were seeking hope."
Cura Personalis Award
El-Sadr credits the HIV/AIDS epidemic for making her a better human.
"It took the HIV epidemic to teach me to stand strong, to not listen to the doubters and the naysayers. It took the HIV epidemic to shake all my assumptions about what it means to be a physician, both its limitations as well as its potential. And finally, it was HIV that taught me how to be a better listener, a better doctor, a better carer, a better researcher, and simply how to be a better person."
After a rousing round of applause at the conclusion of her address, Georgetown University President John J. DeGioia presented El-Sadr with the Cura Personalis medal.
"For her unwavering compassion and deep dedication to collaborative, multidisciplinary approaches to confront the global HIV/AIDS epidemic, Georgetown University Medical Center presents Dr. Wafaa El-Sadr with its highest honor, the Cura Personalis Award," DeGioia said.
As someone who has known El-Sadr since she started her career, Edward B. Healton, MD, MPH, executive vice president for health sciences and executive dean of the School of Medicine, describes her as a "great humanitarian."
"From treating HIV patients at Harlem Hospital to developing innovative health systems strengthening strategies that are being used in countries throughout sub-Saharan Africa and Asia, Dr. El-Sadr truly demonstrates the spirit of cura personalis."