Creating Space for Self-Expression at "What Makes You?"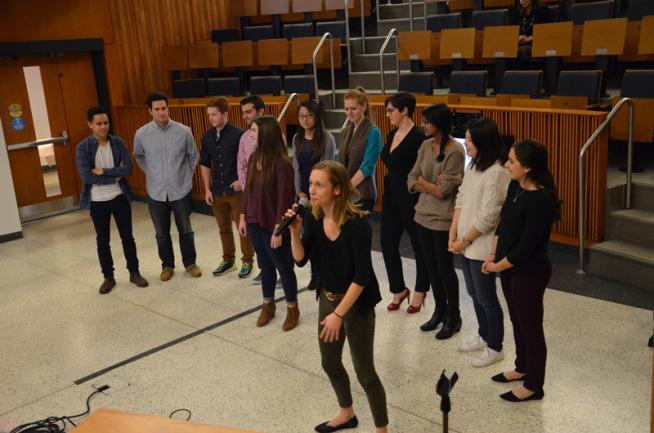 Posted in GUMC Stories | Tagged School of Medicine
January 21, 2018 — The sounds of a saxophone and piano medley filled the entrance of the Medical-Dental Building, setting the stage for a night of artistic self-expression.
For the second year in a row, the Office of Diversity and Inclusion (new window) partnered with Georgetown Arts and Medicine (new window) to host "What Makes You?", a celebration of the diverse perspectives, identities and artistic talents of the Georgetown University School of Medicine (new window) community — faculty, students and staff alike.
Anticipation for Student-Faculty Collaboration
Eager to witness a different side to their peers and professors, attendees excitedly lined the hallway, waiting to enter the Proctor-Harvey Amphitheater at the January 16 event.
"I attended last year but didn't perform. However, it was one of my favorite events of the year, which is why I wanted to help plan it this year," said Marilyn McGowan (M'20) who performed and co-led this year's event with Griselda Potka (M'20).
"It's rare that we get the opportunity for faculty and students to collaborate, to have a chance to show these different sides of themselves," said Potka.
For Susan Cheng, EdLd, senior associate dean for diversity and inclusion at the School of Medicine, collaboration was the goal.
"[The event] was a joint effort between the students and the Office of Diversity and Inclusion because we both had the mutual goal of shedding light on identities and identity exploration, but through a more creative form," she said. "The question is 'what makes you more than medicine,' so getting to unpeel the layers of titles, roles and see who we are as people is interesting and important."
In her introduction, Cheng shared the words of author Victoria Moran, encouraging students and faculty to "celebrate your differentness — the world will, too."
The GUSOM community certainly answered the call.
A Unique Space to Be Yourself
From intimate personal reflections to tap and hula dancing, singing and piano playing, the performances were varied and unique, allowing participants to show up in their own way.
Nick Stukel (M'18) wrote a song for the event titled "Doctor." "It's a parody of Taylor Swift's 'Blank Space' following the progress from M1 to M4, the ups and downs, highs and lows," he said.
The program also featured the GUSOM Hawaii Club, represented by three students originally from Hawaii, who expressed their cultural identity by performing a hula to the song "He Mele No Lilo."
"There's not really an outlet for this form of expression," McGowan said. "Having this space where graduate students, medical students, and faculty are all welcome and vulnerable and sharing something intimate about themselves is extremely unique," she reflected.
The performances were preceded by a photo series titled "More Than Medicine" that showcased GUSOM students with talents and passions not transferable to the stage, such as cooking, yoga and photography.
According to the series description, "These talents or identities can be overshadowed by the rigor and commitment required in medicine; through these photos we celebrate them."
"Spectrum of Emotion" in Performances
Last year's event co-leader, Lauren Klingman (M'19), dealt with personal identity more directly in her reflection, "From Acting to Medicine," which took the audience through 20 years of her life in the acting profession.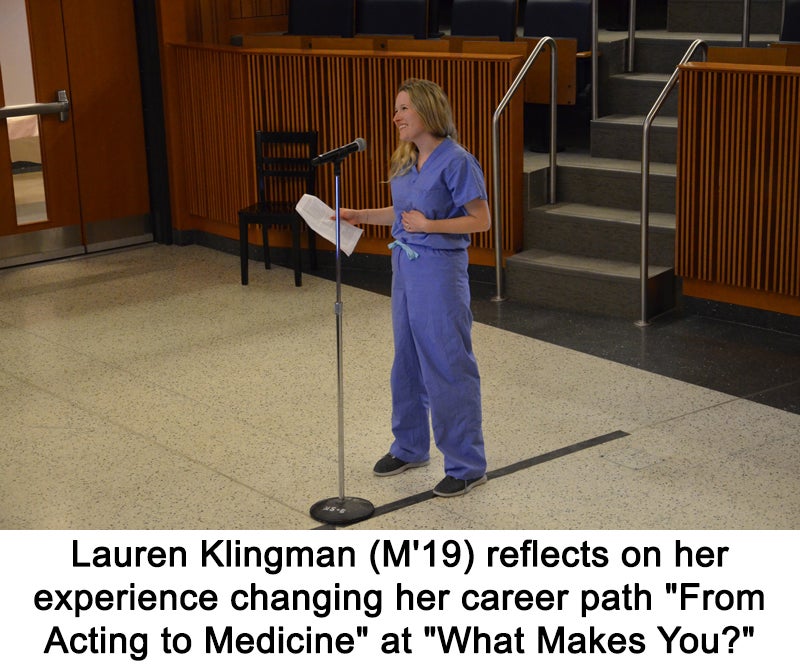 "It's hard for me to believe that it's been almost seven years since I decided to officially call it quits on theater and go into medicine … It was the last time I called myself a professional actor or artist," she said, a few minutes before demonstrating the "ninja roll," a skill she picked up during a stage combat course.
"I'm still struggling to redefine myself and questioning if it is all right to feel like an artist," she said. "I'm still trying to find a way to blend both."
Klingman found it refreshing to open up about her time as an actress. "It's a part of my identity that often doesn't get brought up," she said after the event. "You get stuck in this 'cookie cutter' role of a medical student. It's nice to let people know you have another identity."
Potka, who also performed last year, was optimistic when asked about performing a second time.
"Last year, I was nervous because it was the first time sharing part of myself with a big audience," she said. "This year, I'm not as nervous. It's liberating to have a place to share things with people you see on an everyday basis, who maybe have no idea about this particular thing in your life. It might even spark conversations later."
An Opportunity for Deeper Connection
Starting with a poem of the same name, Caroline Wellbery, MD, PhD, professor in the department of family medicine, and faculty advisor to Georgetown Arts and Medicine, shared her journey through medical school in a reflection titled, "Who Will Take Care of the Children?"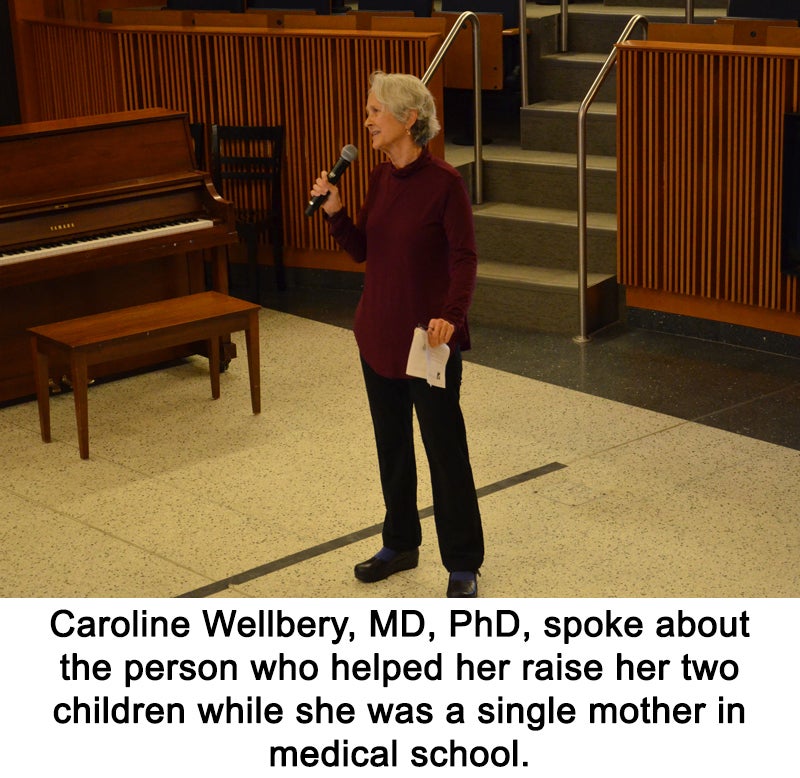 Recounting her experience as a single mother, living in tight quarters and searching for a live-in nanny during her clinical years, Wellbery shared heartfelt and whimsical anecdotes about Charissa, the unlikely individual who took care of her children during that time and left a lasting impact on her family.
"[Charissa] still does pull at my heartstrings, because when it comes to somebody looking after your kids, well … I wouldn't have made it through medical school without her," Wellbery concluded.
"When Dr. Wellbery rehearsed her piece, I learned so much about her … How she had to navigate being a single mother while in medical school made me feel more connected; it allowed me to see her in another light. I already thought she was an amazing person … but to learn that she also had two children [while in] medical school blew us away," Potka said prior to the event.
"For me, it's particularly interesting to see the faculty; doctors who are successful in their careers," McGowan said. "You look at them with this astonishment and wonder how they achieved it all. But, through these performances, we get to hear about their personal struggles, too. That's not something we hear about often."
"When people share their triumphs and [their] struggle, it helps humanize this whole path we're on. It helps to unite us," she added.
Giuliana Cortese
GUMC Communications