Colloquium Panelists Discuss Next Steps Toward Ending HIV Epidemic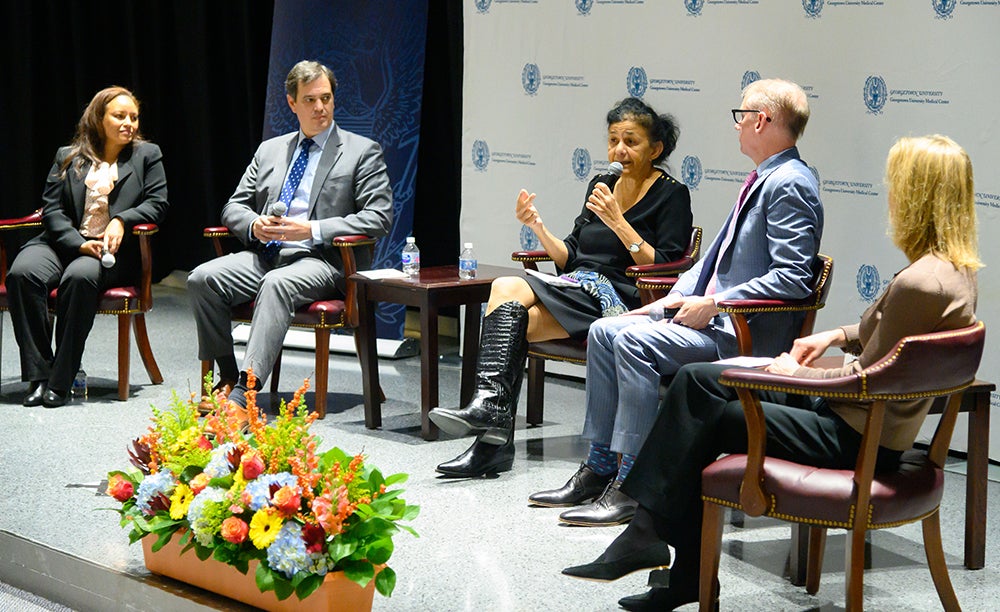 Posted in GUMC Stories | Tagged Convocation 2019, HIV
(November 26, 2019) — While remarkable strides have been made towards ending the HIV epidemic, an incredible amount of work remains, panelists agreed at the Colloquium on HIV/AIDS, part of the Twelfth Annual GUMC Convocation on November 18. 
"I think we're in a good place, but nonetheless I always say the accomplishments are fragile, very fragile, and many of us stay awake at night worried about what's coming down the line," said Wafaa El-Sadr, MD, MPH, MPA, university professor of epidemiology and medicine at Columbia University and recipient of the 2019 Cura Personalis Award.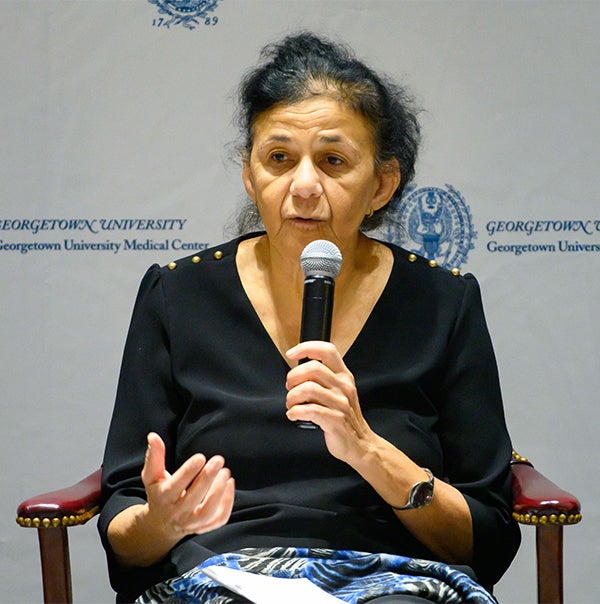 El-Sadr joined HIV/AIDS experts for the colloquium, which was moderated by Carole Roan Gresenz, PhD, interim dean of the School of Nursing & Health Studies and the Bette Jacobs Endowed Professor in the department of health systems administration.
Several colloquium participants expressed their admiration for El-Sadr, who also serves as the founder and director of ICAP at Columbia University, a global health center dedicated to improving the health of families and communities.
"I've had the privilege of knowing Wafaa since she began her important work in the early 80s — we do go back that far — in Harlem and at Columbia just as the HIV/AIDS epidemic ignited," said Edward B. Healton, MD, MPH, executive vice president for health sciences and executive dean of the School of Medicine. "And over the many decades, and I know with much personal sacrifice, Wafaa has followed the need and engaged in many ways, both broadly and deeply, as the HIV/AIDS epidemic expanded."
Dramatic Achievements
Since the epidemic started, advances in drug development have made it easier for patients with HIV to live longer lives. "You've gone from fistfuls of pills that you have to take multiple times a day that are very difficult to tolerate to one tablet and you're good and you can go on with the rest of your day and not think about your HIV," said Seble Kassaye, MD, MS, associate professor of medicine at Georgetown University School of Medicine and principal investigator for the Women's Interagency HIV Study (WIHS).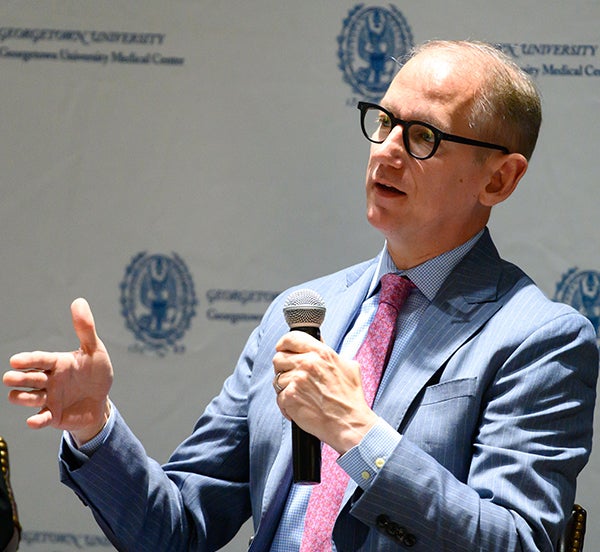 Such advances have led to an increase in the amount of patients with HIV who have reduced their viral load to an undetectable level, a condition called viral suppression. "In 2010-2011, it was the first time that we had national estimates of the care experience of all people with HIV and we found that only about 25%, or one in four, were virally suppressed," said Jeffrey S. Crowley, MPH, a distinguished scholar and program director of infectious diseases initiatives at the O'Neill Institute for National and Global Law at Georgetown Law.
In comparison, about half of those with HIV nationally are virally suppressed today, Crowley added. "That's still too low, but it's significant progress in a short period of time," he said.
Similarly, there was a lot of concern about women with HIV transmitting the infection to their infants at the beginning of the epidemic, Kassaye explained. "In the last few years, we've had less than 100 cases per year of perinatally infected kids," she said. "So this is a huge success story."
Reaching More Patients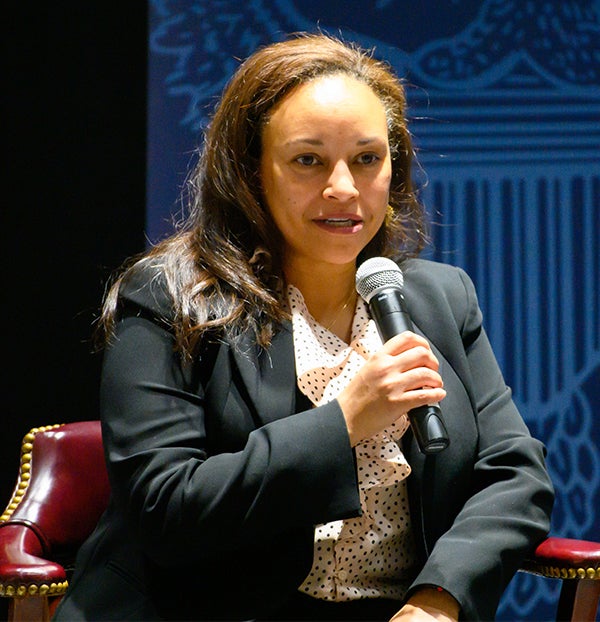 Viral suppression rates have increased among patients with HIV who are in treatment, but issues related to stigma and mental health continue to prevent some patients from seeking treatment, Kassaye said. "There are a lot of these other social determinants that need to be addressed at the same time that they're addressing HIV," she said. "So you can't just treat HIV in isolation. It has to be in the social context that people are living in."
Promoting patient-centered care that accounts for a patient's needs, preferences and values can keep patients involved in their care and decrease the likelihood that they will stop seeking treatment. Recognizing that 20-30% of patients with HIV in Zambia were getting lost in follow-up, Charles B. Holmes, MD, MPH, professor of medicine at Georgetown University School of Medicine, traced those patients to find out why they became disengaged. He learned that patients were willing to wait 19 additional hours and travel an extra 45 kilometers for an appointment with a health care provider who was "kind and not rude."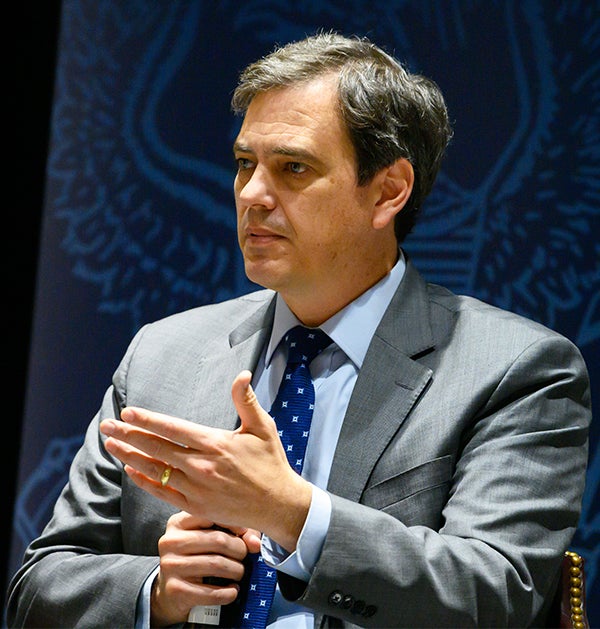 "As we dug into the in-depth interviews with folks to find out, many of the people who were lost from our system, their last interaction with the system was exceptionally bad and a lot of it related to getting yelled at by a provider for being a week late for treatment or some other kind of negative or stigmatizing interaction," said Holmes, who also serves as the faculty co-director and managing director of global health policy for the Center for Global Health Practice and Impact at Georgetown. "Our hope is that over the next couple of years, we can show a tremendous increase in retention and the types of outcomes we're looking to achieve."
Patients should also be encouraged to become active participants in the development of HIV prevention policy, especially patients from the populations experiencing the highest rates of infection — black and Latino men who have sex with men in the U.S. and young women globally.
"These are groups that are routinely not listened to when health systems are being formulated and strategies for public health are being adopted," Holmes said. "So one of the things that I think we need more of is actually listening to those groups and having them lead our dialogues around our public health strategies."
'There Really are More Similarities Than Differences'
Reflecting on her experiences working in African countries, El-Sadr recalled hearing someone say that her patients in Harlem must be very different. "I just had to pause and think to myself, actually, no. They face very, very similar complexities and challenges," she said. "A woman living with HIV in Zambia probably faces very similar challenges to a woman living with HIV in Harlem. So I believe that those similarities between people dominate, really dominate, over the differences."
Lessons learned from efforts to end the HIV epidemic globally can be applied domestically and vice versa, El-Sadr said, because ultimately, patients with HIV face similar issues regardless of their country. Such lessons that the U.S. could learn from successes abroad include an emphasis on metrics and the need to more quickly adopt innovations like rapid testing and self-testing.
"I generally believe that there are differences between health systems, differences between people, but there really are more similarities than differences," El-Sadr said. "It's really one world in many ways, and HIV highlights why it has to be one world."
Kat Zambon
GUMC Communications