Cloaked in White: New Medical Students Carry 'Cura Personalis' Torch
Posted in GUMC Stories
It's a time-honored tradition — one in which new medical students first don the white coat that is emblematic of their chosen profession. 
On Aug. 9, the 197 members of Georgetown University School of Medicine's  class of 2017 took part in this rite of passage, described by Stephen Ray Mitchell, MD, dean for medical education, as the start of an "important sacred process" of becoming a physician.  
The new students, their friends and families gathered in Gaston Hall to be cloaked in their new white coats embroidered with their names and to recite the Hippocratic Oath. Each student also received what Mitchell called the "Proctor Harvey stethoscope," so named for the late W. Proctor Harvey, MD, who died in 2007 after 55 years as part of the School of Medicine's faculty. Harvey was renowned for his reputed ability to diagnose complex cardiac problems by listening through his stethoscope to a patient's heart rhythms.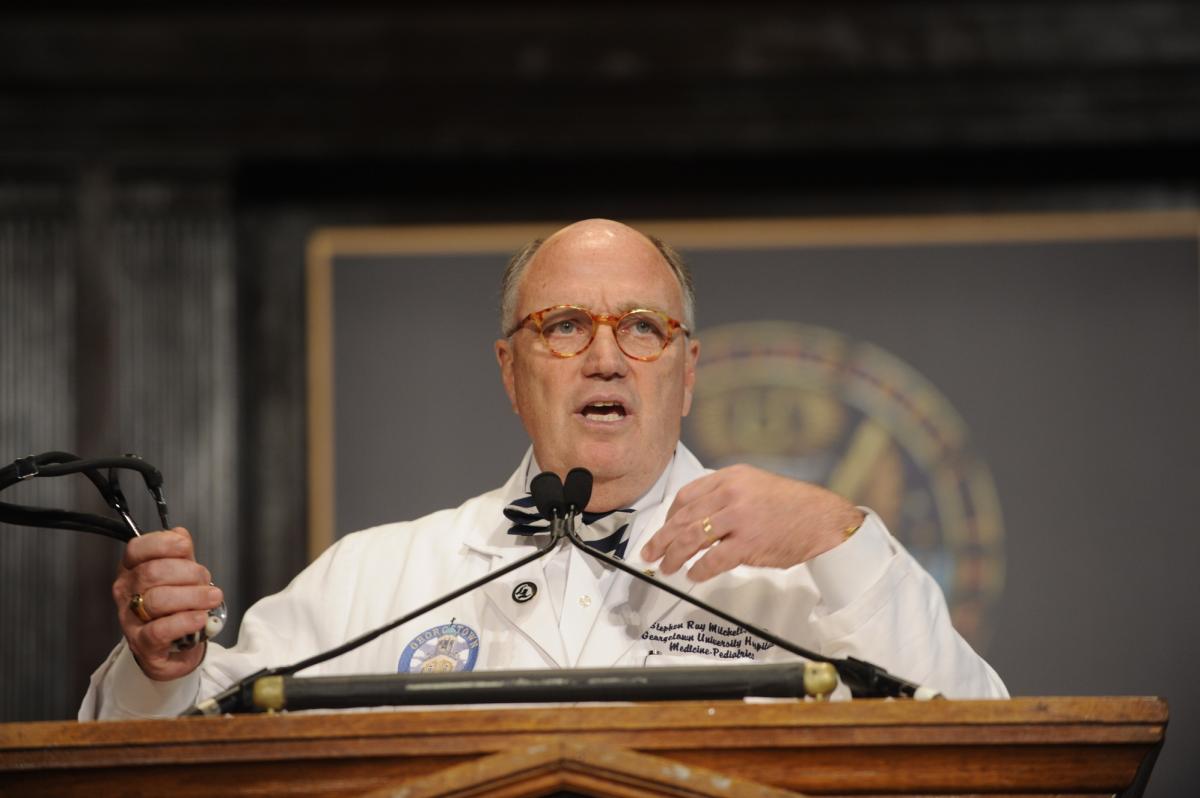 Stephen Ray Mitchell, MD, dean for medical education, advises students that once they put on their white coats for the first time, "you can't go back. It means something. Even when you take it off, you are still in this profession."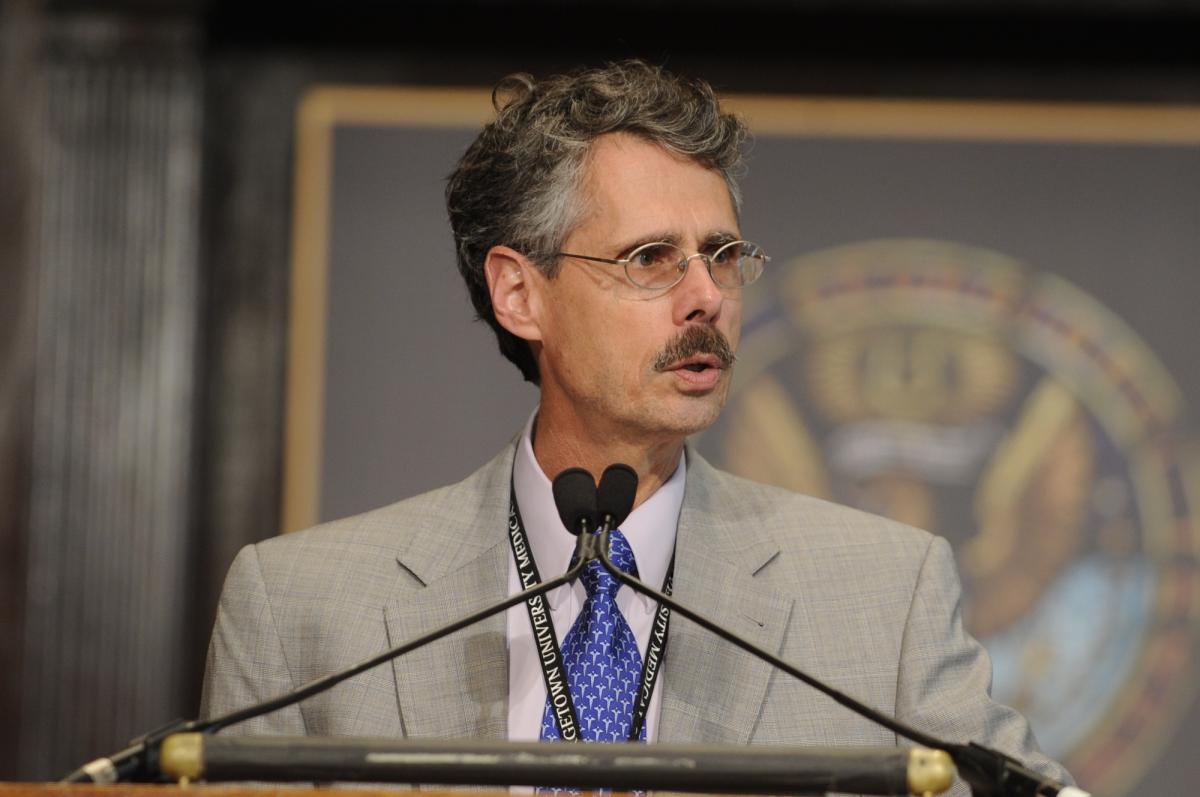 Howard J. Federoff, MD, PhD, executive vice president for health sciences and executive dean of the School of Medicine at Georgetown University Medical Center, welcomed the class of 2017 to "Georgetown's community of scholars and healers who are guided by the Jesuit principle of cura personalis – care of the whole person – mind, body and spirit."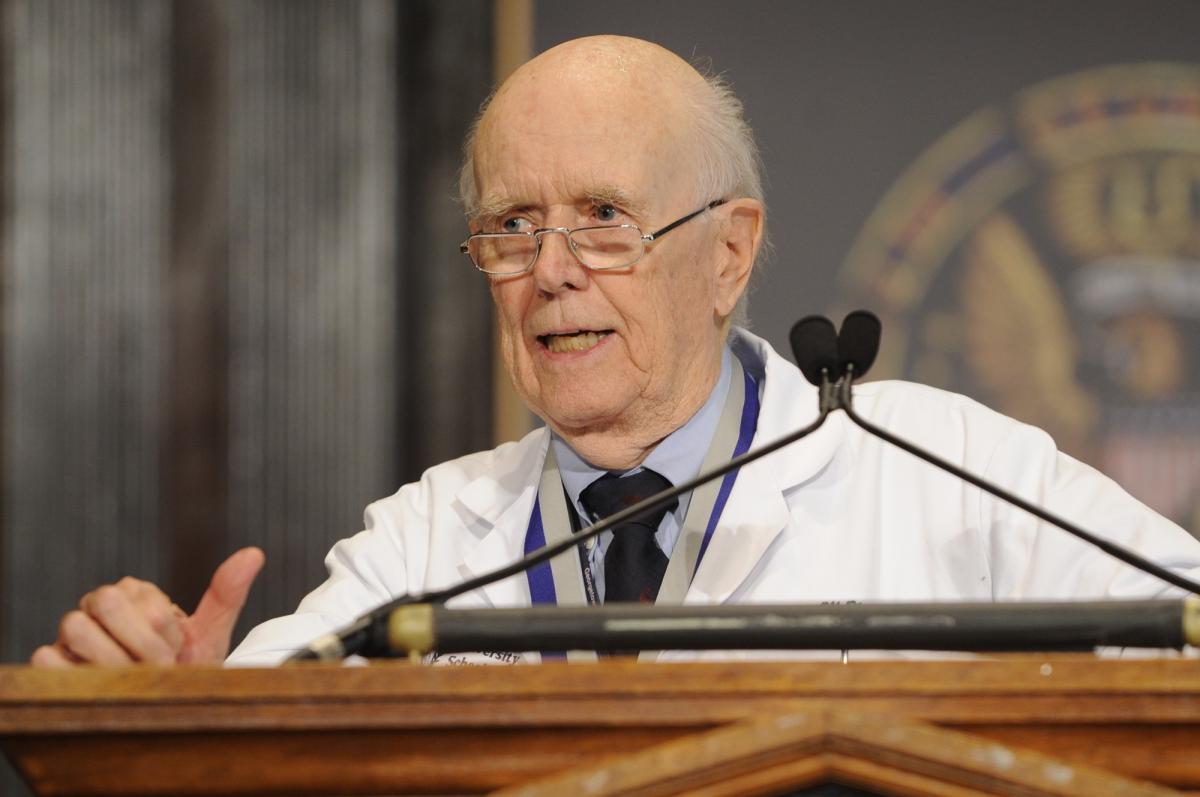 As he does every year, Donald Knowlan, MD, beloved emeritus professor, delivered his lecture to the new students, this time acknowledging the lecture's namesake Edmund Pellegrino, MD, who passed away earlier this year. Knowlan told the class of 2017 that they will learn a great deal from patients, including an understanding of the "incredible complexity of the human psyche." Future physicians, he said, will need to become "strong patient advocates … to insist that the patient gets the best and most precise care."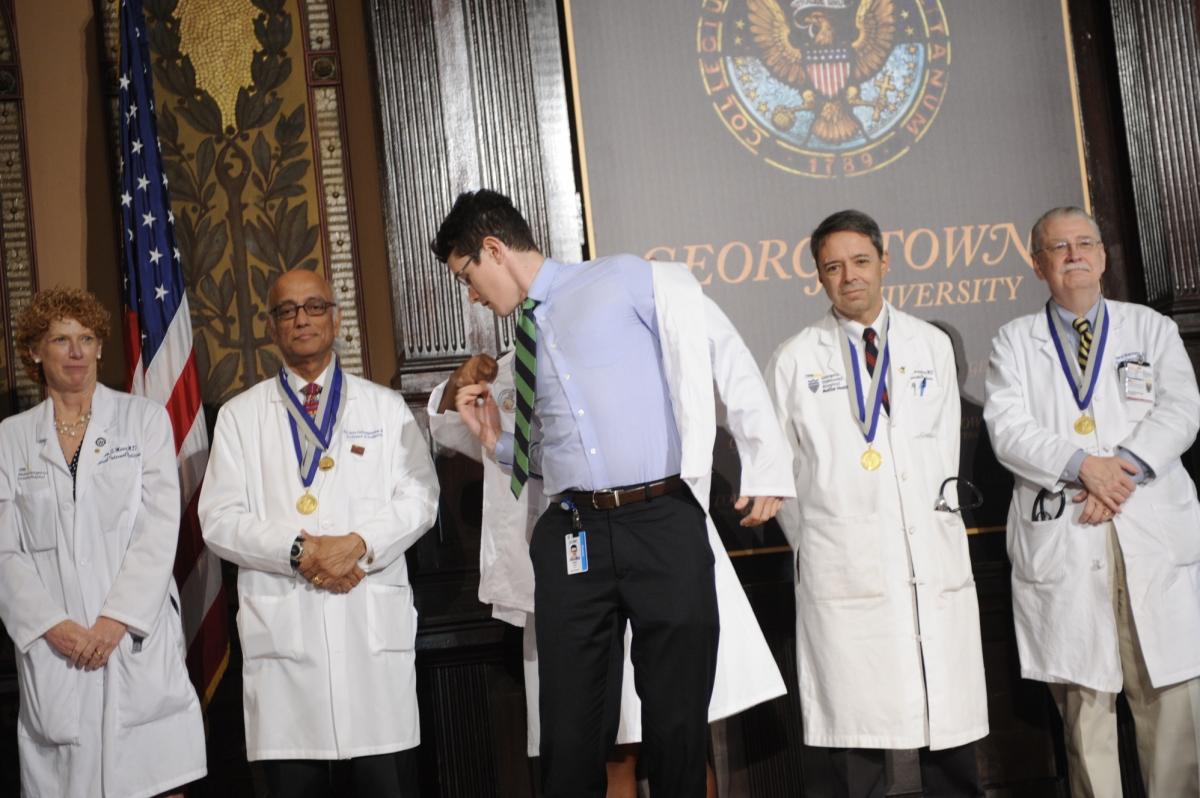 Students don their white coats as part of the ceremonial start of their medical school career.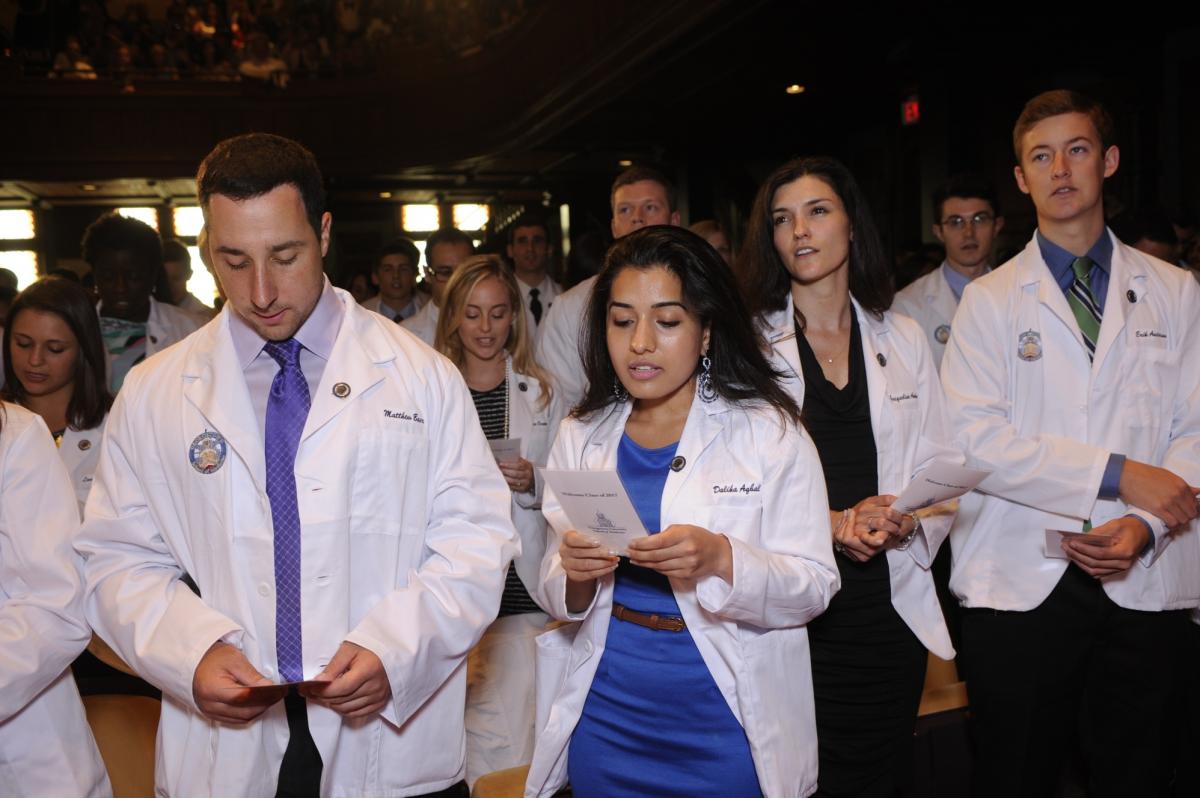 The recitation of the Hippocratic Oath marks the moment when these future doctors become professionals, Knowlan says.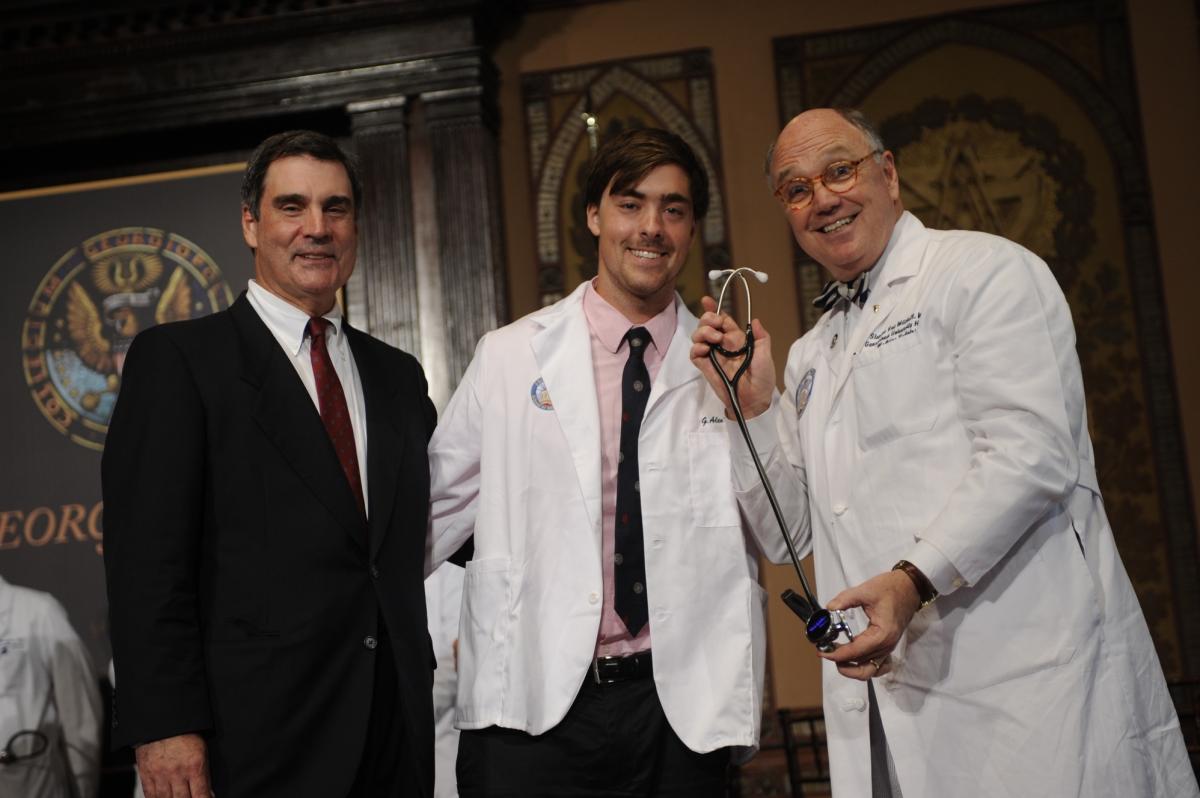 The next generation: Proctor Harvey's grandson, Alex Trivette, is among the class of 2017. Here he receives his white coat from his father George Trivette, MD (left), while Mitchell holds up the "Proctor Harvey stethoscope."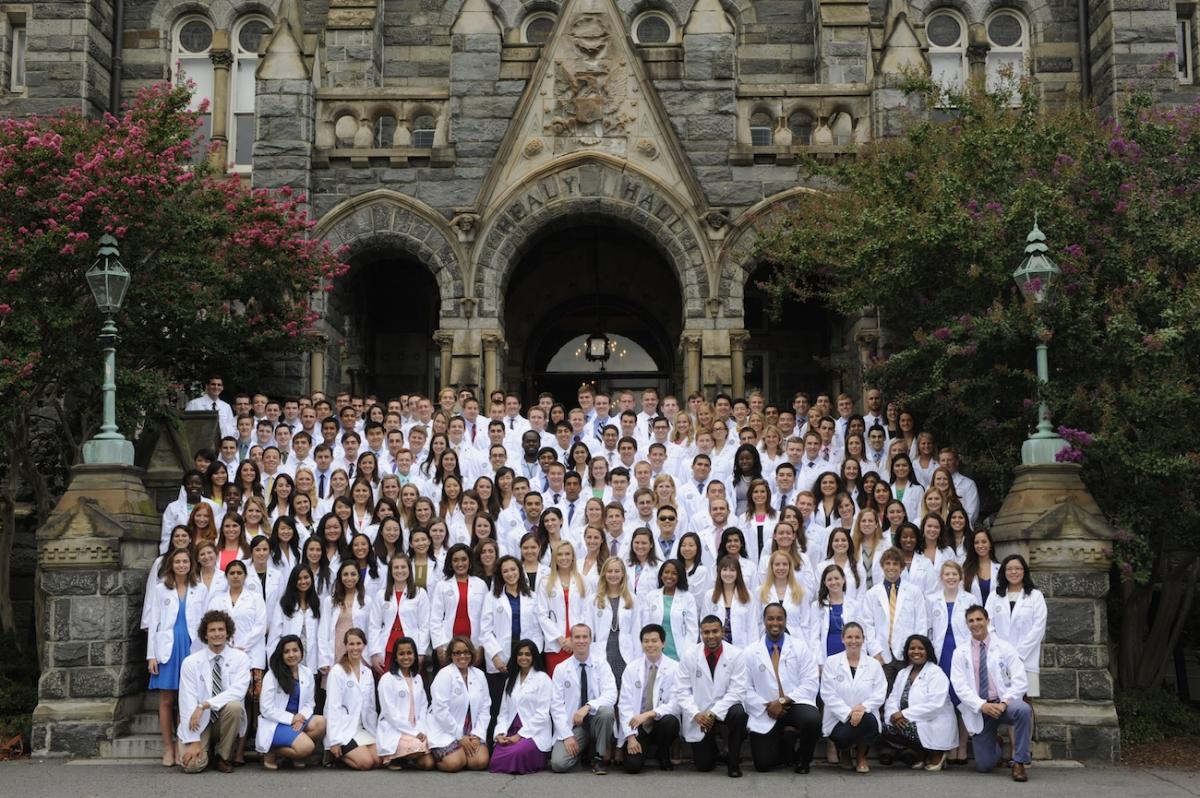 Class of 2017: this year's incoming class has 103 women and 94 men from 32 states.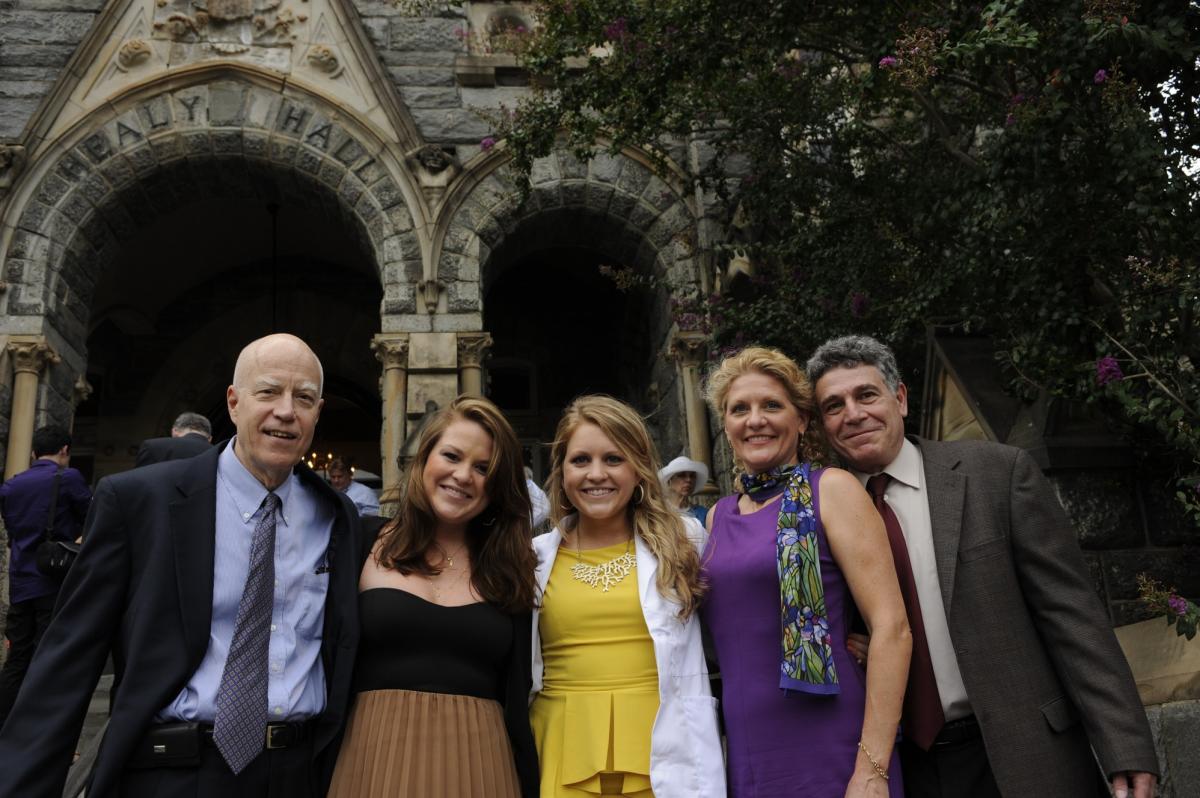 The family of incoming medical student Camille Roberts (center) was on hand to watch the white coat ceremony. Camille's grandfather, William C. Roberts, MD (left), was a long time collaborator of Proctor Harvey, MD. They are joined here by Camille's sister, Amelia Roberts, and her parents, Pamela Y. Horowitz and Ronald Horowitz.
By Lauren Wolkoff, GUMC Communications
(Published August 11, 2013)