Christopher J. King Named New Chair of Health Systems Administration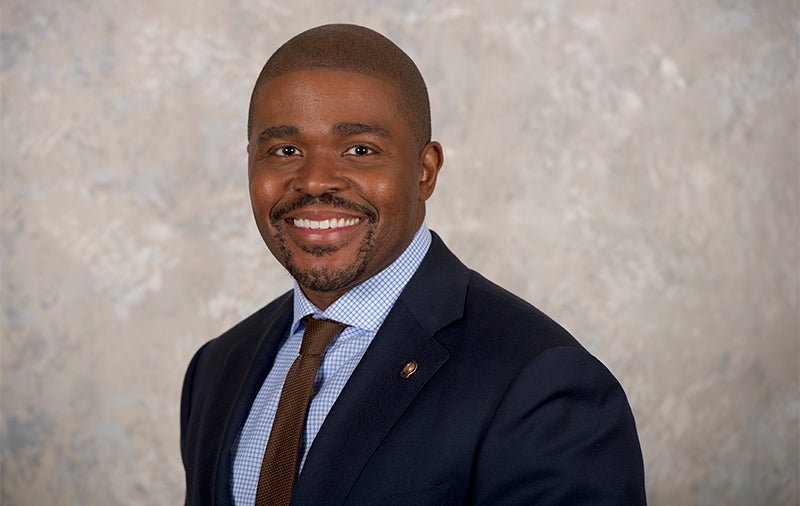 Posted in GUMC Stories | Tagged new faculty appointment, School of Nursing & Health Studies
(August 29, 2019) — A former MedStar Health executive with a focus on public health and social justice is the new chair of the Department of Health Systems Administration at the School of Nursing & Health Studies. Christopher King, PhD, MHSc, FACHE, is also an associate professor in the department and director of the Master of Science in Health Systems Administration Program.
King, who joined the Georgetown faculty in 2015, is a fellow of the American College of Healthcare Executives and was recently appointed to Washington, D.C.'s Commission on Health Equity. He previously was the first assistant vice president of community health for MedStar Health, and also served as a director of a federally qualified community health center in southern Maryland.
Addressing Emerging Trends
King plans to facilitate efforts to advance the department's undergraduate and graduate degree offerings, while exploring opportunities for new directions for the health systems administration graduate degree.
"Graduate education is changing and educational disruptors are paving the way for students to learn new skills at a lower cost," he says. "Over the next year, the faculty will take time to reflect on lessons learned over the past two decades. We will work in partnership with MedStar Health and other employers to build on our prior success, and ensure our graduate program aligns with trends in higher education and health care management."
The department is noted for its "strong public health competency with an emphasis on social justice," which helps students connect the dots between health outcomes and social factors that shape health, King says. "It is important for students to understand how historic events contribute to contemporary manifestations of health disparities."
As a component of a university-wide commitment, that departmental focus will soon be reinforced: the department successfully competed for one of four new scholars who will create Georgetown's new Institute for Racial Justice. The new faculty member will have a joint appointment with the Department of Health Systems Administration and have expertise at the intersection of racial equity and health care delivery.
"A scholar who's nationally or internationally recognized in this space will magnify and build on a pre-existing body of work," King says. "Systemic racism has profound effects on the health of individuals and populations, particularly those from historically marginalized communities of color. As we strive to eradicate racial differences in health outcomes, the health care delivery system should be perceived as a key player in accelerating change at a systemic level."
The Department of Health Systems Administration has nine core faculty who serve about 105 undergraduate students and 24 graduate students in the residential and executive track of the master's program.
"Experiential education is an important part of our curricula," King says. "We recognize there's only so much you can teach in the classroom, so all students must complete an internship."
Students have an opportunity to work on projects that will inform the trajectory of health care delivery or improve the patient experience. For instance, those who are interested in policy conduct various types of analyses and those interested in management pursue work in quality, safety, and process improvement.
Holistic Approach to Care
King says he "fell in love with health care" when he was a director of a federally qualified community health center in southern Maryland. In addition to medical care, the center provided an assortment of social services to help the most vulnerable lead healthier lives.
During the experience, "I realized that as a society, we are good at providing medical care, but we have not cracked the code on how to provide health care," King says. "In the spirit of health care reform, we must reimagine systems of care that have the capacity to address the needs of the whole patient in real time."
As department chair, King looks forward to advancing the narrative and building the department's capacity to excel as an academic leader in health equity and health system innovation.
Kathleen O'Neil
GUMC Communications