Cell Biologist Receives Grant to Study Eye Disease
Posted in GUMC Stories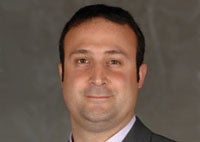 A cell biologist and Georgetown faculty member recently received grant funding for his research on pigmentary glaucoma.
Alex Theos, Ph.D., assistant professor of human science at the School of Nursing & Health Studies, received $40,000 from the Glaucoma Research Foundation for his project, "GPNMB Deficiency and Associated Cytotoxicity in Pigment Dispersion Syndrome, a Precursor of Pigmentary Glaucoma."
Pigmentary glaucoma involves optic nerve degeneration after accumulation of debris originating from pigmented cells within the eye, a frequent endpoint for Pigment Dispersion Syndrome (PDS) patients, according to his abstract.
"Our goal is to better understand the changes that are going on within the cells of the eye that spur the development of a type of inherited glaucoma known as pigmentary glaucoma," Theos said.
According to the Glaucoma Research Foundation, PDS is rare and can cause optic nerve damage in patients. If this occurs, individuals develop pigmentary glaucoma – a condition that hinders their ability to see clearly.
"We are looking at the cells that produce the pigment that gives the iris its color," he said. "Unfortunately, we currently know very little about why these particular cells within the eye deteriorate with age and cause problems that lead to disease."
Theos's work will focus on the GPNMB protein, which may help keep eye cells healthy.
"By directly comparing cells that either have normal GPNMB and those that are missing this critical protein, we expect to be able to follow the biology of these cells and better understand why these cells behave abnormally in PDS," he said.
He noted that this deeper basic biological understanding may have therapeutic benefits down the road.
"If we can fully understand how molecules like GPNMB lead to changes in the behavior of eye cells, this will help the future development of therapeutics to go in and correct the problem or prevent these debilitating diseases," he said.
By Bill Cessato, NHS Communications
(Published March 14, 2012)