Celebrating the Achievements of Medical Center Postdoctoral Fellows
Posted in GUMC Stories | Tagged biomedical research, GUPDA, post-doctoral education
(September 22, 2018) — This week marked the ninth annual celebration of National Postdoc Appreciation Week. At Georgetown University Medical Center, the Georgetown University Postdoctoral Association (GUPDA) has established and maintained a much-needed community and infrastructure for dozens of postdoctoral fellows spread across fields such as oncology, neurology, pharmacology and neuroscience since its founding in spring 2017.
"Postdoc Appreciation Week gives everyone the opportunity to recognize all the hard work being done at Georgetown by our incredible postdocs," said Emily Andre, PhD, a postdoc in the department of pharmacology and physiology and co-chair of GUPDA. "They're teaching classes, mentoring students, and doing groundbreaking research."
Demonstrating Leadership
The GUPDA aims to enhance the postdoctoral fellow experience by providing a formalized peer support network through professional development and networking opportunities. Their monthly workshops have covered topics including grant writing, social media, CV editing and applying for academic jobs.
Moreover, the GUPDA has also sought opportunities to work with and mentor graduate students by co-sponsoring events with the Medical Center Graduate Student Organization (MCGSO), such as the "How to Get a Postdoc" panel discussion. Other peer mentoring initiatives include grant reviewing and poster judging for MCGSO events.
Connecting with postdocs locally has also been part of the GUPDA agenda. They have hosted monthly informal get-togethers and quarterly networking events with postdocs from Washington, D.C., area institutions and government agencies such as George Washington University, National Institutes of Health, NASA, National Institute of Standards and Technology and the Food and Drug Administration.
"Prior to the formation of the GUPDA, there were few ways to meet postdocs spread across campus," said Anna Matejko, PhD, a postdoc in the Center for the Study of Learning who serves as co-chair of GUPDA. "It has provided me with a stronger sense of community at Georgetown University."
Increasing Visibility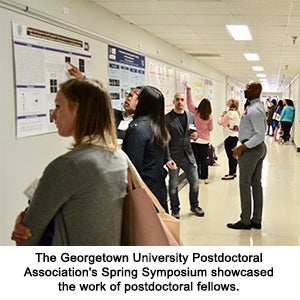 The inaugural Annual Postdoc Research Symposium in April 2018 was GUPDA's largest event of the academic year, featuring poster and oral presentations by postdocs from both Georgetown's main and medical campuses. The research symposium was one of the first events both hosted and focused on postdoctoral fellows. The next research symposium, scheduled for April 26, 2019, will showcase some of the latest cutting-edge research by postdoctoral fellows.
The GUPDA has also worked with medical center leadership and Caleb McKinney, PhD, to create an Office of Postdoctoral Development to support career-development resources for postdocs. As the assistant dean of graduate and postdoctoral training and development for Biomedical Graduate Education programs, McKinney has been a strong advocate for GUPDA. In October, he was appointed to the National Postdoctoral Association as a diversity officer.
Looking Ahead
The academic year may have just started, but GUPDA co-chairs Matejko and Andre are already planning events and workshops for postdocs that will cover science policy, teaching, informational interviews, elevator pitches, academic interviewing and applying for grants. GUPDA will also continue to co-sponsor networking and mentoring events with MCGSO and Georgetown Women in Science and Education (WISE) in the coming year.
The GUPDA is actively looking for new postdocs to take on leadership positions within the organization to continue to develop the group and to support the postdoctoral community at Georgetown. Please contact georgetownpda@georgetown.edu if you are interested in getting involved with the GUPDA.
Seren Snow
GUMC Communications