Cancer Researcher Wins Scholarship
Posted in GUMC Stories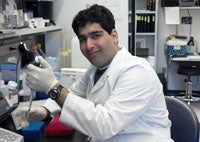 A Georgetown undergraduate who already has completed three years of biomedical research that includes one year on cancer, has been awarded the prestigious Barry M. Goldwater Scholarship.
Frederick Ghandchi, who will graduate in the spring of 2013, interned at the Children's National Medical Center and NIH before working in the lab of Todd Waldman, M.D., Ph.D., a Georgetown associate professor of molecular oncology.
Ghandchi is one of only 282 individuals nationwide out of 1,123 math, science and engineering applicants to win the nationwide scholarship. The award covers the cost of tuition, fees, books and room and board for one or two years up to $7,500 annually.
"I felt very excited to have won the scholarship, because I know that it will open many opportunities to me," says Ghandchi, who plans to pursue a Ph.D. in molecular biology.
Incredibly Focused
"I plan to become a principal investigator in a medical center environment, such as the NIH, and head my own basic research projects on the molecular biology and genetics of cancer," he adds.
Waldman, who holds a large 5-year NIH grant to study the role of specific genes in brain cancer, calls Fred "incredibly focused."
"Fred is super, super smart and very passionate about biomedical research," Waldman says. "He is already absolutely certain he's going to do a Ph.D. in molecular biology, which is unusual among sophomore undergraduates."
Ghandchi started out as a member of the Class of 2014, but is expected to graduate a year early.
Genes and Cancer
The young scientist is also part of Georgetown's Howard Hughes Medical Institute (HHMI) program, which allows undergraduates to choose a faculty mentor to work with over the summers.
Waldman says Ghandchi is working on two different cancer genes (PTEN and P53) in terms of how they may regulate each other.
"These genes are very important in human cancer," Waldman says. "We work on their role in brain cancer, but they are important for many other tumor types as well."
"It looks like they talk to each other," he adds. "We're not sure, but maybe Fred will figure it out. It's understood that to some extent they regulate each other, but the mechanism is poorly understood and how that relates to them possibly causing cancer is also poorly understood. "
Problem-Solving
In addition to Waldman, Ghandchi says he is grateful to Joseph Neale, Ph.D., the university's Paduano Distinguished Professor in the biology department who co-directs the HHMI Program.
The student says he also appreciates associate professor of biology Heidi Elmendorf, Ph.D., for "showing me that biology is more than memorization by focusing on problem solving and the big picture in class and on exams."
Waldman was pleased to hear that his student had won the scholarship.
"Fred is very deserving of this prestigious recognition, and I am delighted the Goldwater foundation chose to honor him," he says.
(Published April 17, 2012)