Biotechnology Poster Presentations Feature Wide Range of Research
Posted in GUMC Stories
APRIL 28, 2016–Normally, research on industry trends in social media, microRNAs and early cardiac development are not presented in the same poster session. But at the Biotechnology Internship Project Poster Presentations on April 26, more than 60 biotechnology students presented research posters on these topics and more.
Students presented research from the internships they completed as part of the MS in biotechnology program, one of Georgetown's Biomedical Graduate Education programs.  During their second semester of the year-long program, biotechnology students complete internships at sites like the National Institutes of Health (NIH), the National Institute of Standards and Technology (NIST), Eli Lilly and Company and FocusBanking.
Students can also intern in labs on campus. Rebecca Ursin (BGE'16) interned in the lab of Ian Gallicano, PhD, associate professor lab in the department of biochemistry and and molecular & cellular biology, where she worked with mouse embryonic stem cells, studying microRNAs and their role in early cardiac development.
"At the poster presentations, I was able to describe my research to people that were clearly not scientists. It's fun to challenge yourself to see if you can explain something complicated in an uncomplicated way," said Ursin. "On the other hand, it was great to talk to judges and others who had extensive scientific backgrounds, because they would often challenge me on something that I didn't think about before."
The biotechnology program, founded by Jack Chirikjian, PhD, nearly 20 years ago, focuses on science, but it also includes a biobusiness track, giving students an opportunity to learn about the business side of science. Students who are interested in business can pursue an internship that reflects those interests.
For example, biobusiness track student Stephanie LaBouve (BGE'16), interned at Eli Lilly and Company, where she analyzed their social media strategy to promote Taltz®, a new psoriasis drug and made recommendations on the best practices to launch the drug into the social media space. "Although in the past pharmaceutical companies have been afraid to use digital direct-to-consumer advertisements, Lilly needs to be brave and lead the way with Taltz®," LaBouve said.
A Growing Program
The biotechnology poster presentations have been held three times a year for fourteen years with the biochemistry masters students.  But this academic year, the biotechnology program had a 50 percent increase in registered students, so they held their session separately from biochemistry for the first time. The biotechnology teaching faculty work as a team, handling several dozen students in the largest professional program in BGE.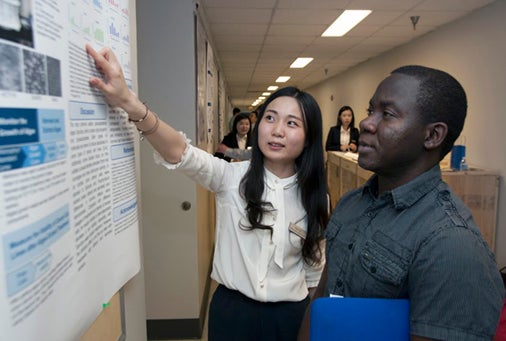 The rising number of biotechnology students has led to an increase in the number of internship sites. It has also led to a growing number of students who, like LaBouve, have found their internships on their own, as opposed to being placed by the program. "I'm really impressed with motivated students who are able to find internships off-site on their own," said Vasna Nontanovan, associate director of the biotechnology program.
Twenty-five judges, many of whom also served as internship mentors, attended the poster presentation. The two winners, one in science and one in business, will be announced at an awards ceremony on May 19.
Leigh Ann Renzulli
GUMC Communications