At Warwick Evans Awards Ceremony, School of Medicine Pays Tribute to the Class of 2022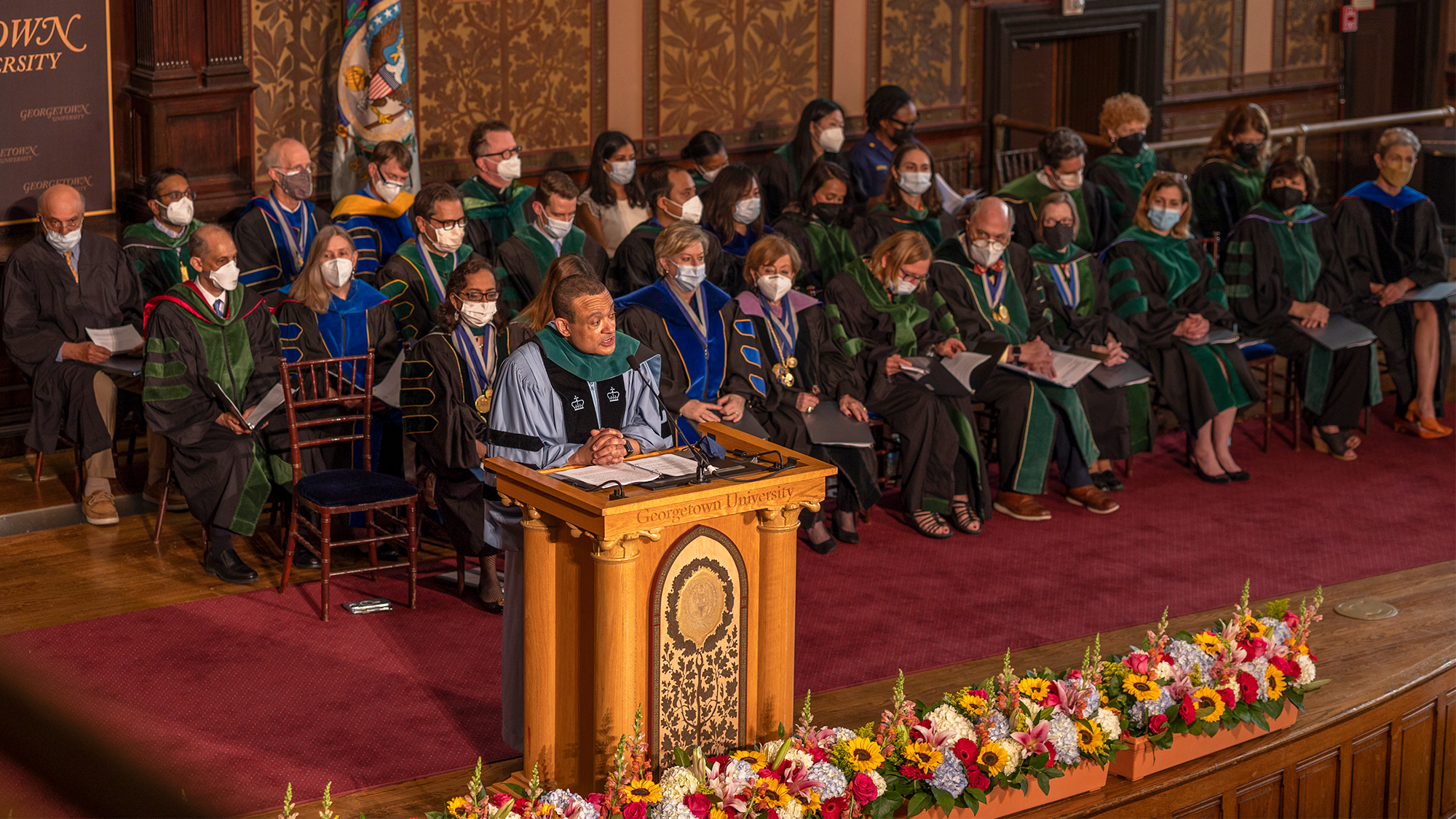 Posted in GUMC Stories | Tagged Commencement 2022, School of Medicine, SOM Commencement 2022
(May 23, 2022) — School of Medicine faculty and staff joined members of the Class of 2022 and their loved ones at the Warwick Evans Awards Ceremony to celebrate the students' accomplishments, hard work and dedication.
"Tonight we will turn our attention to our fourth-year students who have excelled in very specific areas of research, education or service in a wide variety of accomplished work." said Lee Jones, MD, dean for medical education, at the May 20 event in Gaston Hall.
"I continue to marvel at your dedication to study, your compassion as caregivers, and your commitment to community," Jones added.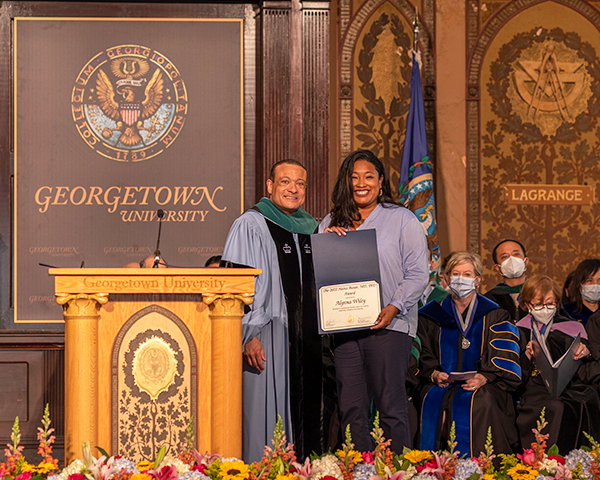 Student Award Winners Honored
Following an invocation by Princy N. Kumar, MD, senior associate dean of students, Jones and other members of the School of Medicine faculty bestowed awards on students who excelled in specific areas of practice from anesthesiology to surgery.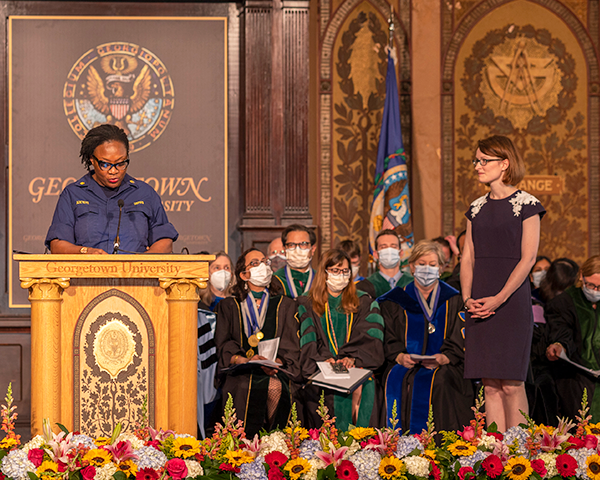 Service award winners included Daniel Swanson (M'22), recipient of the Health Justice Scholar Award, which recognizes leadership in advocacy to understand underserved communities in the Washington, D.C., area, and Ali Welschmeyer (M'22), recipient of the Health Justice Alliance Award, which is presented to a graduate who best embodies the spirit of social justice in their work through the Georgetown medical-legal partnership.
Alynna Wiley (M'22) received the Heinz Bauer Award, which is presented to a graduating minority student for integrity, scholarship, humanism and leadership.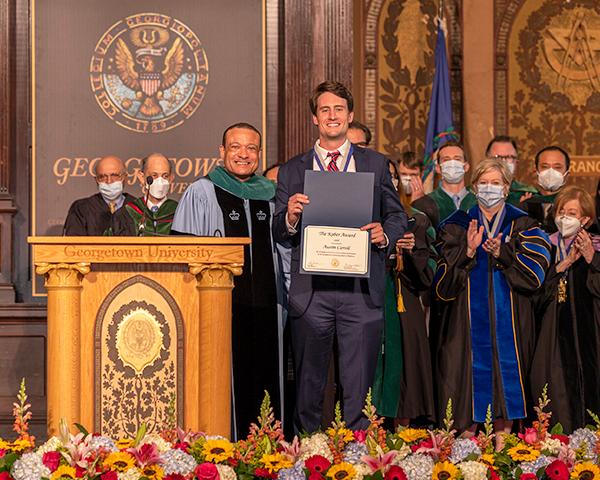 The evening's only award not to be presented by a faculty member was the 2022 Excellence in Public Health Award, which was presented by Lt. Cmdr. Adeola Adeyeye, physician chief professional officer of the U.S. Public Health Service, to Brynley Dean (M'22) for dedication in serving in the nation's fight against disease and poor health conditions.
The Kober Award, which recognizes the graduating medical student with the highest overall academic record and performance, was given to Austin Carroll (M'22).
'What Will Be Our Legacy?'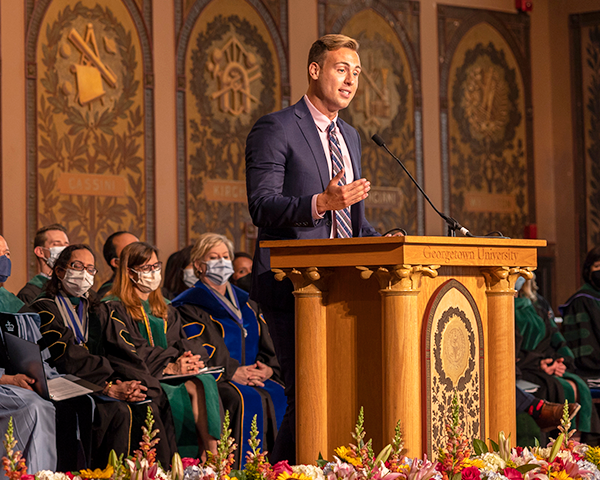 The event was capped by Michael Markel's student address. Reminiscing about shared cohort events, including a clinical skills practice session in which he ripped his pants, Markel (M'22) encouraged students to learn and grow from awkward encounters.
"But, we get to carry these humbling experiences forward, remembering always that we are lifelong learners and are not infallible," Markel said.
Markel also called on his classmates to "live up to our commitment to social justice, both in our own lives and as we practice the art of medicine.
"This entails standing against the injustices of our world," Markel said. "The laws of science are challenged at the expense of our neighbors, people of color's liberties are relentlessly under fire, and those who are pregnant are at risk of being denied health care. What will be our legacy?"
Heather Wilpone-Welborn
GUMC Communications