NFL Players Association Debuts Gear to Benefit Georgetown Lombardi
Posted in GUMC Stories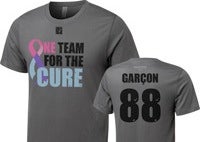 The NFL Players Association has launched "One Team For The Cure" t-shirts to benefit Georgetown Lombardi Comprehensive Cancer Center as part of a broader cancer awareness campaign.
The shirts – available in men's and women's sizes – are available online through the One Team Shop during the months of October and November. They feature the name and jersey number of one of 18 players who have so far signed on to the campaign, as well as a tri-colored ribbon (pink for breast cancer awareness, light blue for prostate cancer and lavender to represent all cancers). 
The Georgetown Lombardi logo is on the back. The cancer center will invest its portion of the proceeds in research and treatment.
"When cancer strikes your family, it doesn't matter if you're a tough linebacker, an agile running back or a pro-bowl quarterback," says Georgetown Lombardi Director Louis M. Weiner, MD. "The cancer center is grateful to the NFL Players Association for its support of those who wake up every morning feeling like it's the biggest game day of their lives, whether they be patients, families, researchers, nurses, doctors or the many others fighting against this formidable opponent."  
Thus far, the NFL players who have joined the campaign include: Kurt Coleman, Jared Cook, Dennis Dixon, Pierre Garcon, Chad Greenway, Brian Hartline, Bradie James, Jeremy Mincey, Josh Morgan, Reggie Nelson, Cory Redding, Coty Sensabaugh, Joe Staley, Philip Tanner, Demaryius Thomas, Joe Thomas, Muhammed Wilkerson and DeAngelo Williams.
"Most Americans understand the pain and suffering associated with fighting cancer, and my family is no different," said NFL Players Association Executive Director DeMaurice Smith, a longtime supporter of Georgetown Lombardi and honorary co-chair of the annual Lombardi Gala. "Our One Team For The Cure initiative and our support for Georgetown Lombardi are focused on helping families win that fight. As a community of players, we are humbled and grateful to do our part."
"I saw my godmother fight and overcome breast cancer," said Washington Redskins wide receiver Josh Morgan. "She's my everything, and those who are still fighting need to know that we are here for them, that we care, because we do care. These shirts show that players are united in their support for them."
T-Shirts are on sale at the One Team Shop (http://oneteamshop.com). 
By Lauren Wolkoff, Karen Mallet and NFLPA
(Published October 01, 2013)