Arts & Medicine Club Showcases Diverse Student Talent
Posted in GUMC Stories
JAN 16, 2017 — In August of 2015, as an incoming medical student at Georgetown, John Guzzi (M'19) felt that he and his fellow classmates needed a way to pursue their creative interests while building a sense of community among students.
United by their interest in music, Guzzi and some likeminded peers started performing on a regular basis for patients in the pediatric wing of Medstar Georgetown University Hospital. However, as the Music & Medicine program grew, they quickly found that students were interested in additional art forms, so the Arts & Medicine Club was born. 
"While medicine is creative, unfortunately, most pre-clinical medical education is not creative," said Guzzi. "Arts & Medicine exists to fill the creative void that medical students are faced with when they start school." 
Talent Abound
It wasn't long before students involved in Music & Medicine realized they had touched on something extraordinary.
"I am continually surprised at the amazing talent of our fellow students," said Christine Papastamelos (M'19), a vice-president of the Arts & Medicine Club.
Guzzi recognized that talent in Dylan Conroy (M'19), who was involved in Music & Medicine but is also a photographer. Guzzi and Conroy worked together to create the "My White Coat Means" photo-series, which encouraged students to reflect on what being a part of the medical profession means to them.
"If people have interests, we really try to go after that," said Conroy, who is also a vice president of Arts & Medicine. "We have an open conversation about what people are interested in, and that drives the projects."
A Broad Scope
It turns out that Georgetown medical students are interested in all kinds of art. To showcase that, Arts & Medicine created Scope, an artistic magazine with a whopping 76 submissions by medical students at Georgetown. The pieces range from literature to drawings to poetry and even musical submissions that will be available online.
"We were amazed and overwhelmed by the response," said Conroy.
The first issue of Scope will be available in print and online in February 2017.
The Patient Connection
"Students can just start to think about the hypoglossal nerve or the structures of the back and they completely dissociate from the actual person," said Caroline Wellbery, MD, professor of family medicine and faculty advisor to Arts & Medicine. "What the arts try to do is to keep that connection alive somehow."
Despite the club's evolution, the original idea of playing music for patients is still going strong. Every other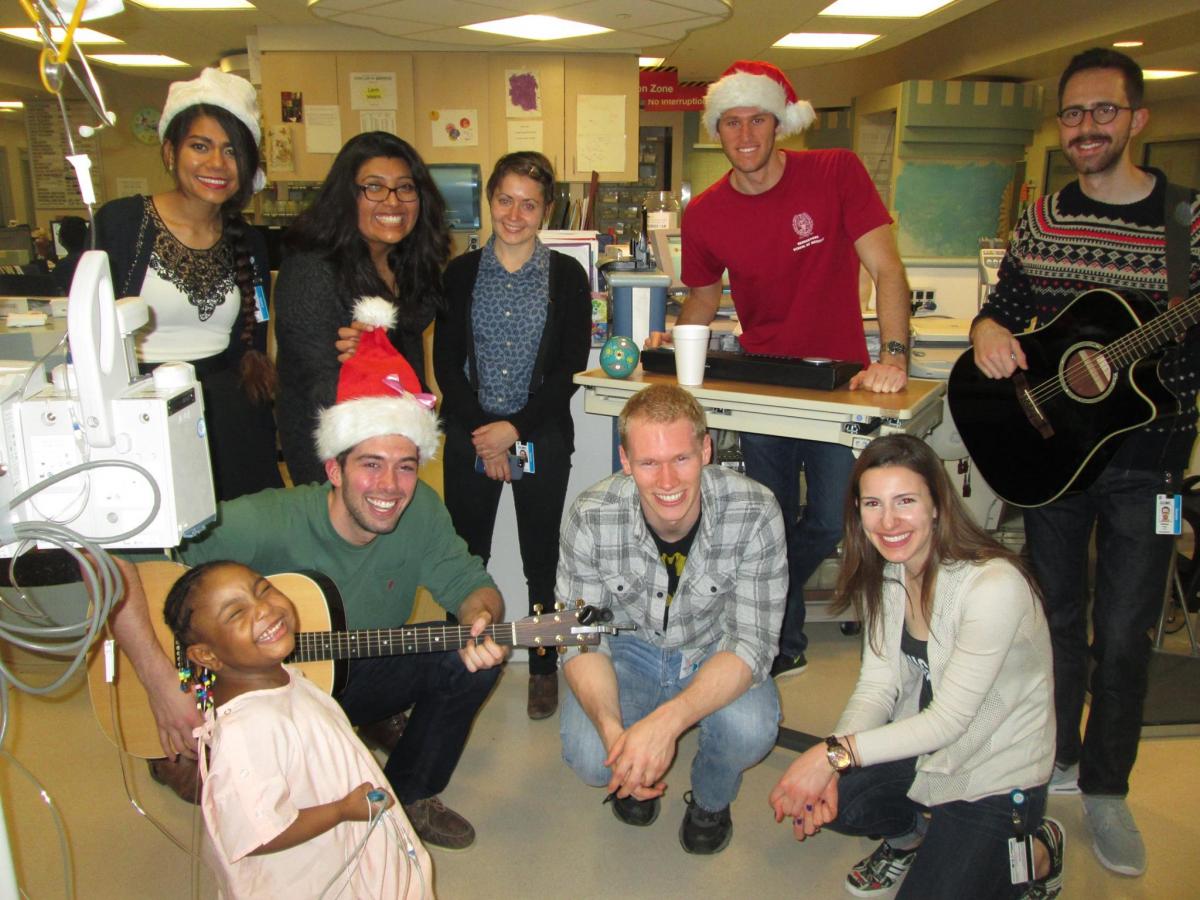 week, club members visit the pediatric wing of MedStar Georgetown to perform.
"I've learned more about patient communication and how to be at someone's bedside from Arts & Medicine than from our patient communication classes," said Guzzi. "Letting yourself be vulnerable and having the patient being vulnerable at the same time is a really important part of medicine that can't necessarily be taught."
Guzzi recalled a nine-year-old patient who would excitedly anticipate Arts & Medicine visits, always eager to lead them in singing her favorite song, "I Can't Help Falling in Love With You" by Elvis Presley. Last year, the young patient passed away.
"The weekend after we found out, we recorded a cover (new window) of I Can't Help Falling in Love With You for her family," said Guzzi. "Through this program, there was a relationship formed that meant enough for people to come together and record a song for her family."
Leigh Ann Sham
GUMC Communications