ARCHES, GEP Participants Present Research Projects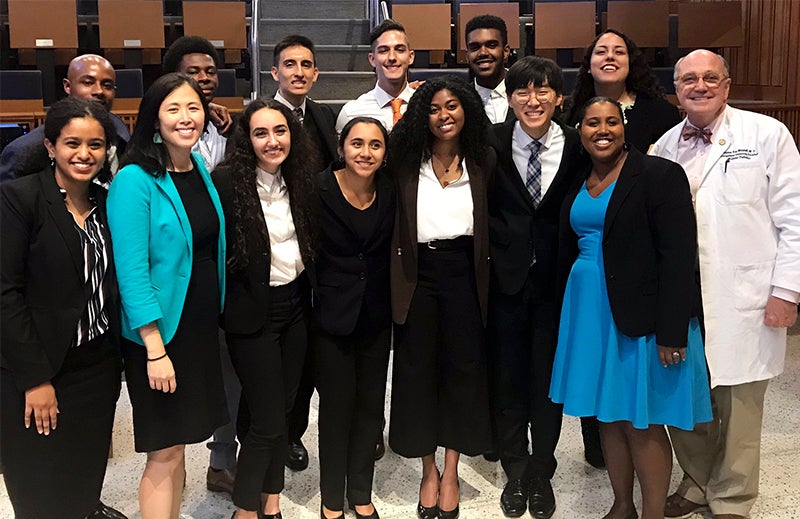 Posted in GUMC Stories | Tagged ARCHES Program, community outreach, diversity, GEP Program, medical education, School of Medicine
(August 16, 2019) — After spending their summer learning about careers in medicine, participants in two pipeline programs run by the School of Medicine Office of Diversity and Inclusion presented their capstone projects, including tobacco use in young adults, social isolation in stem cell transplant patients, mental health disparities and more.
United by their interest in attending medical school, 14 local high school students participated in the Gateway Exploration Program (GEP), while 10 undergraduate students from around the country took part in the Academy for Research, Clinical and Health Equity Scholarship (ARCHES). During their time in the programs, all of the students attended professional development workshops, conducted research and shadowed medical professionals.
'New Sons and Daughters of Georgetown'
At the ARCHES capstone presentations, Stephen Ray Mitchell, MD, MBA, dean for medical education, recalled that the idea for the program came from an intern in the Office of Diversity and Inclusion about four years ago. "I'm so grateful because each year as we welcome these new sons and daughters of Georgetown, it has gotten more and more exciting," he said.
"I have to say my deepest thanks to the mentors, the research mentors, the labs that opened their hands and hearts to these young people," Mitchell added. "You have gotten them excited about medicine. They are going to have an impact. And so we are just so grateful for what you've done."
"The ARCHES Fellows are paired with diverse researchers across GUMC, securing both wet and dry lab experiences," said Susan Cheng, EdLD, MPP, senior associate dean for diversity and inclusion at the School of Medicine. "In just six weeks, fellows develop a stronger foundation in research methods, lab protocols, and build up their confidence in collaborating with their research teams."
ARCHES fellows spend 70 to 90 hours on clinical research working with senior research mentors. Sean Nemia from the University of Florida worked with Dejana Braithwaite, PhD, associate professor in the department of oncology, to survey the perspectives of primary care providers (PCPs) regarding lung cancer screening among patients who fall just outside the recommended screening guidelines.
As an example, Nemia described a 75-year-old patient with chronic obstructive pulmonary disease (COPD) who had a 30 pack-year smoking history, meaning that he had smoked the equivalent of one pack of cigarettes daily for 30 years and quit smoking 15 or 20 years ago. The U.S. Preventive Services Task Force (USPSTF) recommends annual lung cancer screening for patients with a 30 pack-year smoking history, but suggests that screening should be discontinued once a person has not smoked for 15 years or develops a comorbidity like COPD, making this patient a marginal candidate for lung cancer screening.
"When we're looking at marginal populations, you want to know whether they're going to benefit from lung cancer screening," Nemia said. "And if they have comorbidities, they're more likely to die from those than from lung cancer itself."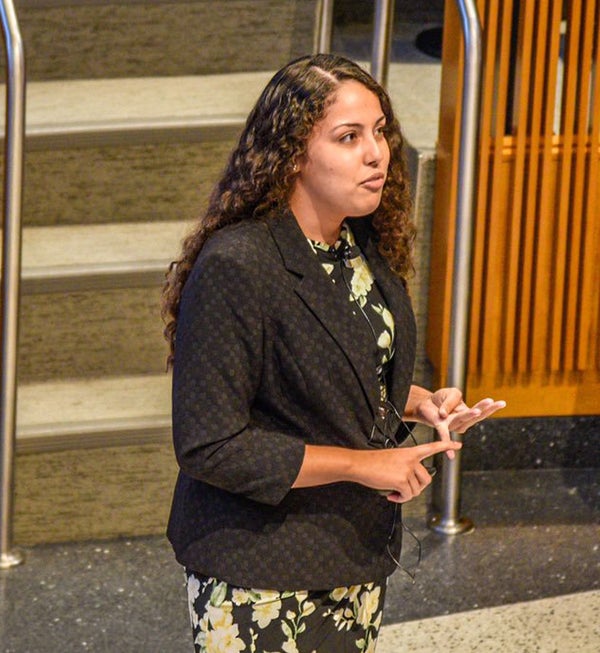 Working from the hypothesis that PCPs may struggle with decision-making when it comes to marginal candidates for lung cancer screening, Nemia hopes the proposed survey will lead to the development of a multilevel intervention system to optimize the lung cancer screening decisions and outcomes. "We want most of the population to have interventions at an earlier stage so that we can have preventative measures and curative medicine for lung cancer rather than having a majority of the population at stage IV and metastatic," he said.
Daniela Butler from Grinnell College worked with Darren Mays, PhD, MPH, associate professor of oncology, to study dual and poly-use of tobacco products in young adults, most often electronic cigarettes and traditional combustible cigarettes. "We see this dual and poly-use especially in young adults, mostly because of marketing but also because it's the cool thing to do," she said.
In a survey of 327 young adults, the researchers found a strong relationship between poly-use of tobacco products and participants who smoke socially and those who demonstrated high levels of interest in novel and stimulating experiences.
It's critical to study tobacco use in young adults because tobacco companies recognize that it's a demographic that experiences high levels of stress and targets them for marketing purposes, Butler explained. "When we're looking at ways to prevent smoking, we can't just focus on cigarette smoking," she said. "We need to change the way that we address smoking."
"As one of the goals of ARCHES is to bridge their academic coursework in college to innovative research applications at the medical center, we are grateful to GUMC faculty for mentoring our 10 fellows and accelerating their exposure to research," Cheng said.
Exploring Areas of Interest
With a focus on health disparities, GEP scholars selected research topics that interested them personally. "Our 14 DC public school students who were selected as GEP scholars undertook research around health disparities for underserved populations across the eight wards of Washington, DC," Cheng said. "They practiced their research and literature review skills and combined them with their own lived experiences as residents of the District."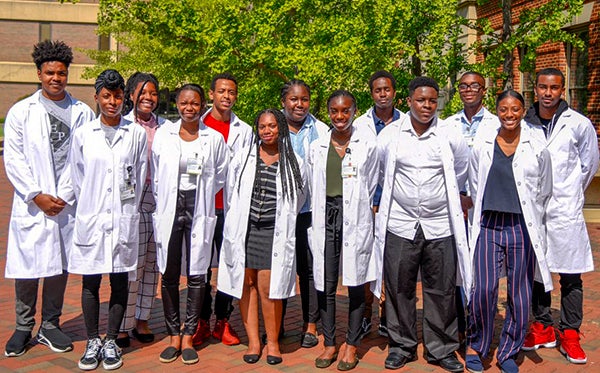 "By presenting their research during capstone presentations to the GUMC community, they also honed their communication skills, which are promoted across the DC public schools," Cheng added.
Gabriel Benn, a student at Bell Multicultural High School, performed research on opioid use and socioeconomic status in Washington, DC. "I knew some people who used opioids, and I just wanted to know more about it and the effects they will have long-term," he said.
Originally from Ethiopia, Natnael Gelgalo from Calvin Coolidge High School wanted to learn more about why suicide rates are higher in the U.S. "I asked many people why people die by suicide and no one could give me the correct answer," he said. "I think suicide is cultural because it's different. Here, people don't ask their family for help. They won't ask their doctors."
As part of the LGBTQ community, Antonio Hudson from McKinley Technology High School was surprised to learn about the challenges transgender patients experience in the health care system. "Even some of the stuff I presented to you, I didn't really know about, so it really opened my eyes," he said.
Joel Volcy from Calvin Coolidge High School looked into the differences in life expectancy among residents of the eight wards of Washington, DC. "Before this program, I didn't have any information on this," he said. "I was kind of clueless, but this presentation opened my eyes a little bit to what's going on."
Reaffirming Their Interest in Medicine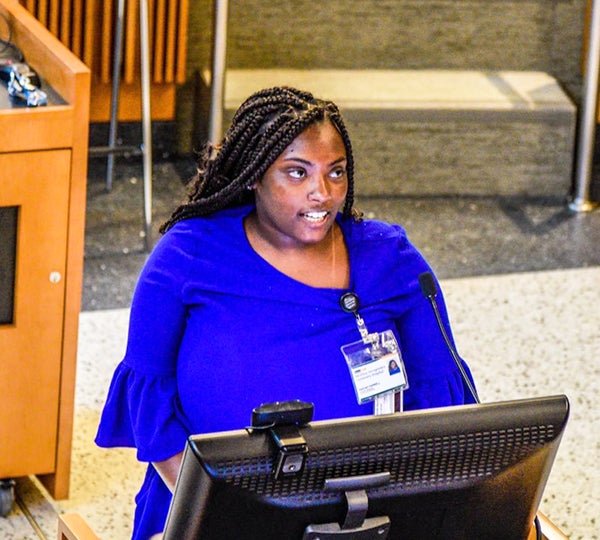 Researching the effects of traumatic events on the mental health of women in urban environments made Alexandria Jackson from Eastern Senior High School feel even more strongly about pursuing a medical career. "I feel like this is why I want to be a pediatrician or a family medicine doctor, because I want to help people who feel like they can't help themselves or feel trapped," she said.
For Nakiah Farrell, also from Eastern Senior High School, participating in GEP sparked an interest in becoming an anesthesiologist. "It's a great experience," she said. "I loved GEP. You meet new people. You meet new friends."
"This is a great program and I learned a lot of things and got exposure to a lot of different things, and I'm grateful for that," Volcy said, adding that he too was interested in anesthesiology.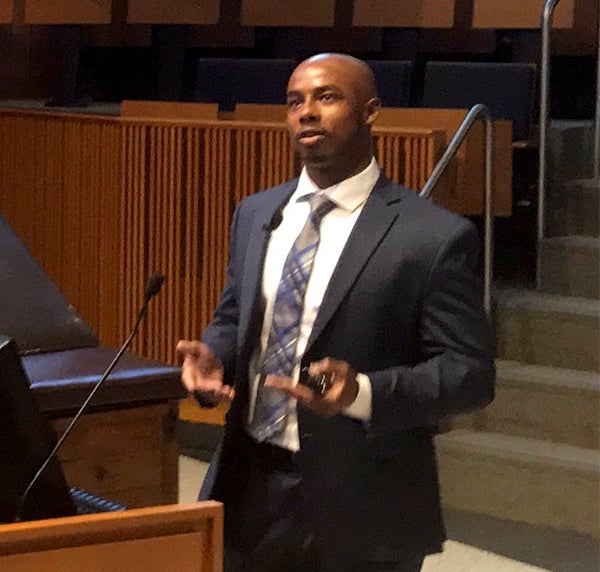 In his presentation, ARCHES fellow Tyrel Powell from Howard University expressed his gratitude for the mentors who supported him throughout the summer. "They reaffirmed that my mission and my journey on the long path to physicianship is in fact something that is worth continuing to fight for," he said. "And for that, I am forever grateful."
Powell also shared that he drew inspiration from the GEP scholars. "Seeing high school students are taking opportunities to be in the same spaces that we are, and they're so early in their careers, it not only pushes me to keep going, it pushes me to be the best exemplar of excellence for them," he said.
"Thank you all for coming here and witnessing each of these fellows," Powell added. "What you witnessed here is not just any cohort, but a group of young women and men who have the power to make a lot of noise in their practices that are to come."
Kat Zambon
GUMC Communications