Research: An Antidote to GI Cancers
Posted in GUMC Stories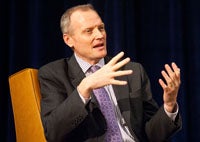 Crucial to life but also a hideout for deadly cancers, the gastrointestinal system includes vital organs such as the stomach, colon, pancreas, liver, bile ducts and gall bladder. Georgetown researchers are making strides everyday in understanding the origins of cancer in order to developed targeted therapies and personalized chemotherapy that are more effective at treating the disease.
That's the hopeful, take-away message from Georgetown's most recent Doctors Speak Out (DSO), a community education program that began in 2009, featuring Georgetown University Medical Center and MedStar Georgetown University Hospital physicians and researchers.
Titled, "The Inside Story: GI Cancers Causes and Cures," the March luncheon was the eleventh in the popular, ongoing series of panel-style conversations between research scientists and physicians, which includes question and answer sessions with audiences that average more than 100 members from the Washington area community.
Denise Li, former television producer of CBS News' Face the Nation and former associate dean of Georgetown's Master of Professional Studies in Journalism program, moderated the panel. Li opened the conversation with a personal story.
She talked about a friend who thought he had chronic heartburn and terrible indigestion. Li said by the time he gave up trying to treat his upset stomach with over-the-counter remedies and went to a doctor, he was in the late stages of stomach cancer.
Li recalled that he died shortly after his diagnosis. He was just 40-years-old.
"They're good at spreading"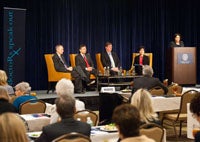 "GI cancers are hard to detect by routine physical examination," explained John Marshall, M.D., director of the Otto J. Ruesch Center for the Cure of Gastrointestinal Cancers at Georgetown Lombardi Comprehensive Cancer Center. "Patients often don't feel discomfort until the disease has progressed. These cancers are notorious in that they often spread early—they're good at spreading."
At its simplest, the GI system is a long, tube from the mouth — where food and saliva trigger a cascade of hormones to activate it – through the body and highly specialized sections that metabolize food, extracting useful nutrients to send to the liver to be further broken down, stored or distributed.
It seems logical that a cancer free GI system might be linked to what we eat. Not entirely so, said DSO panel of GI doctors and oncologists: "We don't really know what causes GI cancers," added Marshall. "We all have marathon-running, cardboard-eating patients."
Re-focused Effort
The Ruesch Center Marshall directs was made possible by the generosity of Jeanne Ruesch, a leading member of the Doctors Speak Out committee, and the Ruesch Family Foundation. The mission of the Ruesch Center is to re-focus national efforts on curing this deadly set of diseases by combining expertise in molecular medicine, translational research, and a patient-centered philosophy.
Marshall, who also is chief of hematology/oncology at MedStar Georgetown University Hospital, believes this combined approach has the potential to revolutionize treatment. He pointed out that cancers are not necessarily best defined by the place where they occur, but more accurately by their molecular similarities. "It's like, when dandelions from the front yard pop up in the back yard—they're still dandelions.
A Snapshot of Future Treatments
The number of deaths from colon cancer have been cut in half during the last 20 years, due largely to the types of cutting-edge treatments that emerge from the collaborative and translational research at academic medical centers – such as Georgetown, said Bruce Luxon, M.D., Ph.D., chair of the Department of Medicine at Georgetown University Medical Center and chief of service for the Department of Medicine at MedStar Georgetown University Hospital.
Panelists gave the audience a snapshot of future treatments like targeted therapies and personalized chemotherapy. They explained how a new data-integration platform, tumor bank, and treatment library called the Georgetown Database of Cancer or G-DOC®, is helping to advance cancer treatment.
G-DOC®, first proposed by Georgetown Lombardi Director Louis Weiner, M.D., is a tissue/treatment repository and computer-based analyzer of that molecular and clinical data. Analyzing the molecular types and clinically effective treatments together will empower and inform doctors more than ever before on best ways to manage individual patient care.
Marshall described G-DOC® as a tool for accelerating research. "It's the place that allows us to run virtual clinical trials and do virtual studies in the computer world," Marshall explained.
"We've targeted the nastiest gastrointestinal cancers that are so aggressive and so recurrent," said panelist Michael Pishvaian, M.D., Ph.D., an assistant professor at Lombardi.
Pishvaian is the principal investigator of seven clinical trials that aim to identify the patient subgroups most likely to respond to certain treatments that are molecularly tailored or personalized. While he pointed out that there's a great need for more federal funding to support such work, "Many innovations directed toward patient-tailored therapy are being made possible by philanthropy," Pishvaian said.
By Victoria Churchville, GUMC Science Writer
(Published March 21, 2012)