Georgetown Alzheimer's Researcher Honored
Posted in GUMC Stories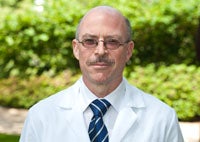 The Alzheimer's Association National Capital Area Chapter has honored R. Scott Turner, M.D., director of Georgetown University Medical Center's Memory Disorders Program, for making a significant difference in the fight against Alzheimer's disease. Turner and six others received recognition at the Association's Washington Monuments Luncheon, May 8 in Washington, D.C.
Turner has received numerous prestigious awards, including a fellowship from the Howard Hughes Medical Institute and a Paul Beeson Scholarship. He lectures widely at scientific conferences, serves as reviewer for granting agencies and biomedical journals, and has published more than sixty peer-reviewed papers, editorials and chapters. Turner is directing several federal, private and foundation-funded research projects to study Alzheimer's disease and its basic mechanisms, and clinical studies of neurodegenerative dementias. Earlier this month, Turner launched the nation's largest study to examine the effects of resveratrol, a compound found in red grapes and red wine, on the progression of Alzheimer's.
Turner, board-certified in psychiatry and neurology, directs the Memory Disorders Program at Georgetown which provides clinical care to individuals with memory disorders, and seeks volunteers with mild cognitive impairment or mild dementia due to Alzheimer's disease, and their families, to join research studies. The goals are to discover new diagnostic tools and more effective treatments to stop disease progression.
Turner and the staff at the Memory Disorders Program contributed to research findings to be announced at the Alzheimer's Association International Conference in July 2012. As an Alzheimer's Association volunteer, Turner lends his professional expertise as advisor, media spokesperson, and presenter at events, educational conferences and forums.
By Karen Mallet, GUMC Communications
(Published May 21, 2012)