Alumna Keynotes NHS Values Lecture
Posted in GUMC Stories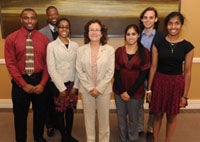 Providing education, health care, and social services is essential in eliminating health disparities, said Maria Gomez (NHS'77), MPH, RN, president and CEO of Mary's Center.
"One relates to the other," Gomez said. "The three are really what we feel are the pillars of how one should deal with health disparities."
Gomez spoke March 29 on Georgetown's campus for the School of Nursing & Health Studies' annual values-based health care lecture.
Approximately 130 students, faculty, staff, alumni, and parents attended the event, which was organized by the school's Robert and Kathleen Scanlon Chair in Values Based Health Care, Minority Health Initiative Group (MHIG), and Committee on Mission and Values.
Giving Back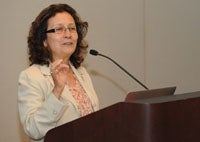 Scanlon chairholder Laura Anderko, Ph.D., RN, welcomed the audience, and MHIG chair Justin Jones (NHS'13), an international health major, introduced Gomez.
Gomez said her desire to start Mary's Center – which opened its doors in 1988 to provide prenatal and postpartum care to Latino women living in the city's Ward 1 – came from personal experience.
She immigrated to the United States from Colombia at age 13 and learned English at school. Her father had been killed before she was born, and her mother worked 16 hours each day to support the family.
Later, as an undergraduate at Georgetown, the Jesuit value of service inspired her.
"The Jesuit education of serving others without expecting much back … is amazing," she said. "You have been given so much, you have to give back."
Making Meaning
Gomez has employed that philosophy during the course of her career.
She began as a nurse in a hospital, but eventually realized that her true calling involved community-based public health work.
"The part that is more difficult is to get to know the social and economic environment your patient is in," she said. "That's hard to learn in the hospital."
During this period, Gomez began noticing a large influx of immigrants from Central America who were coming to the United States to escape war.
These individuals ultimately faced many challenges in the District, such as lack of health insurance, financial instability, language and cultural barriers, and housing and employment issues.
Mary's Center – through its "social change model" of education, health care, and social services – has worked to better this situation.
The organization, which began in a basement in Adams Morgan, has grown to three sites that serve more than 24,000 socially and medically vulnerable individuals.
"Your life should be meaningful to others and not just yourself," she said.
Getting Involved
A number of students and faculty currently work with Mary's Center on a variety of projects. Gomez invited more to participate in areas such as strategic planning, tutoring, and health education activities.
"It's really important that you leave the walls of this wonderful institution [with] your love of learning and share it with the community," she said.
By Bill Cessato, NHS Communications
(Published April 4, 2012)