A Commitment To Evidence Helps Merenstein Thrive As Physician-Scientist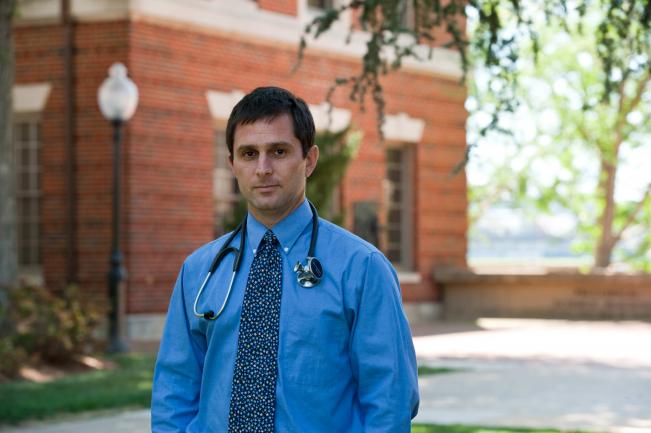 Posted in GUMC Stories | Tagged antibiotic resistance, biomedical research, clinical trials, HIV, medical research, probiotics, School of Medicine
(February 15, 2019) —As a tenured professor and the director of research programs in the department of family medicine at Georgetown University School of Medicine, Daniel Merenstein, MD, spends most of his time pursuing evidence-based answers to common clinical questions.
A major focus of his research that epitomizes this quest involves probiotics — the so-called "good" bacteria found in yogurts and other fermented food—and how they can benefit human health, particularly the effect they have on respiratory and gastrointestinal infections.
Merenstein has published extensively in this area and presents nationally and internationally. He was the only American academic on a consequential paper published in 2014 defining probiotics and their indications.
"Since most of the human immune system is found in the gastrointestinal tract, ingesting healthy bacteria can really impact both the gastrointestinal and immune systems, truly having many potential clinical impacts," he explains.
Making Sense of the Human Gut
Since 2006, Merenstein has recruited over 1,700 participants for eight probiotic trials. He has published over 100 studies throughout his career and has served as a principal- or co-investigator on studies funded by grants totaling more than $100 million in the last 12 years.
In one of his latest clinical trials, called "PLAY ON," Merenstein is investigating whether a probiotic yogurt drink can prevent antibiotic-associated diarrhea in children taking antibiotics for a respiratory infection.
The study, funded by a five-year, $3.1 million grant from the National Institute of Child Health and Human Development at the NIH, aims to understand how and why antibiotics disturb the gastrointestinal tract.
"We know that after using antibiotics, we need to replenish good bacteria, since antibiotics kill both good and bad bacteria in our bodies," says Merenstein. "Now we are studying a very commonly-used probiotic strain to see what impact it may have."
Merenstein plans to get those answers through a collaboration with scientists at the University of Maryland and Penn State University, by analyzing the genetic makeup of the study participants' stool.
Research Influences Policy
Merenstein served as senior investigator for an international group of ten scientists who, in 2018, showed probiotics may reduce the need for antibiotics in both infants and children, an important step toward understanding the benefits of probiotics that also contributes to reducing antibiotic use.
Reducing antibiotic use, or overuse, with probiotics could have a significant impact on medicine, Merenstein says.
Antibiotic resistance is a growing public health problem worldwide. When antibiotics are overused, the organisms that cause diseases and infections begin to develop a defense mechanism.
Merenstein is steadfast in his efforts to improve prescribing practices in hospitals and health care facilities.
Just recently, the American Academy of Family Physicians asked Merenstein to represent the organization on the CDC's Healthcare Infection Control Practices Advisory Committee.
In 2015, he was the sole family medicine physician appointed to a panel of experts convened by the Pew Charitable Trusts in collaboration with officials from the CDC to examine antibiotic use.
The panel published their findings in 2016 in the Journal of the American Medical Association (JAMA) The publication also set national targets for changes in prescribing practices and highlighted the importance of antibiotic stewardship activities in the U.S. toward reaching those targets.
HIV and Family Medicine
While probiotic research is a large part of Merenstein's research portfolio, his commitment to family medicine has also allowed him to have an impact on a very different, but critical, area of health.
Merenstein is a co-principal investigator of the Washington Metropolitan Women's Interagency HIV Study, along with Seble Kassaye, MD, an associate professor of medicine at Georgetown.
Started in 1994 and funded by the NIH, the long-term observational study aims to understand the medical and psychosocial impact of HIV on women's lives.
"The success story of HIV treatment is one of the most impressive things I have witnessed in my career, but unfortunately in our community in Washington, D.C., the rates of HIV are still very high," Merenstein says. In the D.C. community, the burden of HIV/AIDs falls heavy on African American women in particular.
"A cornerstone of family medicine is prevention and education, two areas that are greatly still needed in HIV care."
Teaching Helps Path Come Full Circle
Merenstein received his medical degree from Thomas Jefferson Medical College (now Sidney Kimmel Medical College) in 1997. He completed his residency at Virginia-based Fairfax Family Practice where he was chief resident. After three years in full-time clinical practice, he completed a fellowship at the Johns Hopkins University through the Robert Wood Johnson Clinical Scholars Program.
Included among his numerous awards is recognition for Outstanding Achievement in Research during the 2009 GUMC Convocation.
Merenstein has mentored dozens of students, spanning high school through medical and nursing school, and still spends time each week treating patients.
In addition to teaching evidence-based medicine, ambulatory care and other topics at Georgetown University School of Medicine, Merenstein is also a professor of human science at Georgetown's School of Nursing & Health Studies where he teaches undergraduate students on evidence in medicine and a senior research internship in the department of human science.
"I try to teach students the importance of critically examining what is often taken for granted and to look for ways to improve our knowledge base," Merenstein says.
"There is nothing as rewarding as teaching students and witnessing when they understand these principles and realize they will hopefully practice with this knowledge and compassion the rest of their lives."
Seren Snow
GUMC Communications