GUMC Update

GUMC Update is a biweekly online newsletter highlighting recent events, news stories and more from the Georgetown University Medical Center community.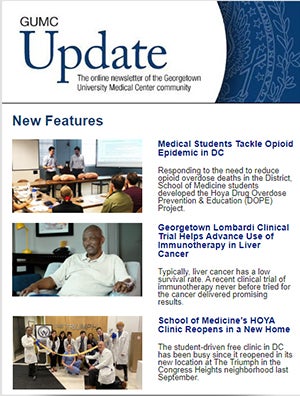 January 5, 2020
Highlights Include:
– Medical students responded to the need to reduce opioid overdose deaths in the District with the Hoya Drug Overdose Prevention & Education (DOPE) Project.
– A recent Georgetown Lombardi clinical trial of immunotherapy for liver cancer has delivered promising results.
– The student-driven HOYA Clinic reopened in its new location at The Triumph in DC's Congress Heights neighborhood last September.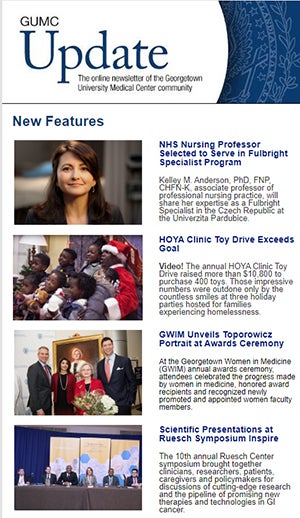 December 15, 2019
Highlights Include:
– NHS Nursing Professor Kelley M. Anderson, PhD, FNP, CHFN-K, was selected for the Fulbright Specialist Program.
– The annual HOYA Clinic Toy Drive raised more than $10,800 to purchase 400 toys.
– The Georgetown Women in Medicine (GWIM) annual awards ceremony celebrated the progress of women in medicine.
– The 10th annual Ruesch Center symposium highlighted cutting-edge research in GI cancer.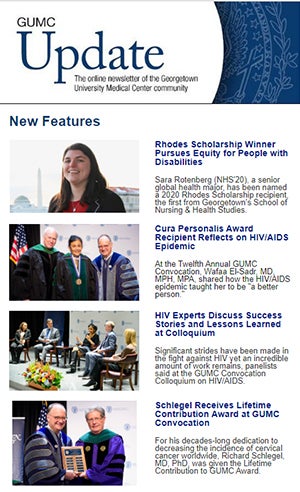 December 1, 2019
Highlights Include:
– Sara Rotenberg (NHS'20) is the first Rhodes Scholarship recipient from Georgetown's School of Nursing & Health Studies.
– Cura Personalis Award Recipient Reflects on HIV/AIDS Epidemic
Wafaa El-Sadr, MD, MPH, MPA, spoke at the Twelfth Annual GUMC Convocation.
– HIV experts discussed success stories and lessons learned at the 2019 Convocation Colloquium
– Richard Schlegel, MD, PhD, received the Lifetime Contribution Award for his decades-long dedication to decreasing the incidence of cervical cancer worldwide.
---
GUMC Update Archive
---
---
• December 9, 2018
• November 25, 2018
• November 4, 2018
• October 21, 2018
• October 8, 2018
• September 23, 2018
• September 9, 2018
• August 26, 2018
• August 12, 2018
• July 29, 2018
• July 15, 2018
• July 1, 2018
• June 17, 2018
• June 3, 2018
• May 21, 2018
• May 13, 2018
• April 29, 2018
• April 15, 2018
• April 1, 2018
• March 18, 2018
• March 4, 2018
• February 19, 2018
• February 5, 2018
• January 22, 2018
• January 7, 2018
---
• December 10, 2017
• November 26, 2017
• November 5, 2017
• October 22, 2017
• October 9, 2017
• September 24, 2017
• September 10, 2017
• August 20, 2017
• August 7, 2017
• July 24, 2017
• July 9, 2017
• June 18, 2017
• June 4, 2017
• May 22, 2017
• May 8, 2017
• April 23, 2017
• April 10, 2017
• March 26, 2017
• March 12, 2017
• February 26, 2017
• February 12, 2017
• January 29, 2017
• January 16, 2017
• January 4, 2017
---
• December 21, 2016 (Special Edition)
• December 11, 2016
• November 27, 2016
• November 13, 2016
• October 30, 2016
• October 16, 2016
• October 3, 2016
• September 18, 2016
• September 5, 2016
• August 14, 2016
• July 31, 2016
• July 17, 2016
• July 5, 2016
• June 19, 2016
• June 5, 2016
• May 23, 2016
• May 15, 2016
• May 1, 2016
• April 17, 2016
• April 3, 2016
• March 20, 2016
• March 6, 2016
• February 21, 2016
• February 7, 2016
• January 24, 2016
• January 10, 2016
---
• December 20, 2015
• December 6, 2015
• November 22, 2015
• November 8, 2015
• November 1, 2015
• October 18, 2015
• October 4, 2015
• September 20, 2015
• September 7, 2015
• August 23, 2015
• July 12, 2015
• June 28, 2015
• June 14, 2015
• May 31, 2015
• May 18, 2015 (Commencement)
• May 3, 2015
• April 19, 2015
• April 5, 2015
• March 22, 2015
• March 8, 2015
• February 28, 2015
• January 25, 2015
• January 11, 2015
---
• December 14, 2014
• November 30, 2014
• November 9, 2014
• October 26, 2014
• October 13, 2014
• September 28, 2014
• September 14, 2014
• September 1, 2014
• August 17, 2014
• August 3, 2014
• July 20, 2014
• July 6, 2014
• June 22, 2014
• June 8, 2014
• May 26, 2014
• May 20, 2014
• May 11, 2014
• April 27, 2014
• April 13, 2014
• March 30, 2014
• March 16, 2014
• March 2, 2014
• February 17, 2014
• February 2, 2014
• January 20, 2014
• January 5, 2014