GWIM Recognizes Outstanding Female Faculty at Awards Ceremony
Posted in GUMC Stories
Dec. 20, 2016 — With a nod to the past and a focus on the future, the annual Georgetown Women in Medicine (GWIM) Awards Ceremony celebrated the achievements of six women faculty in the areas of mentorship and outstanding achievement. The event was held Dec. 15.
The three awards given, the Karen Gale Outstanding Achievement Award, the Estelle Ramey Mentorship Award and the John Eisenberg Career Development Award, are named for champions of equity — work that continues today at GUMC and beyond.
"Valuing outstanding accomplishments, mentoring and career milestones is an important way to publicly acknowledge the terrific work that women faculty are doing," said GWIM president Kristi Graves, PhD, associate professor of oncology at Georgetown Lombardi Comprehensive Cancer Center.
Recognizing Research and Education
GWIM honored Jacqueline Jonklaas, MD, associate professor of medicine (endocrinology and metabolism), with the Karen Gale Outstanding Achievement Award, which recognizes a woman from GUSOM or MGUH for outstanding achievement throughout a career in research, education or service.
Along with many other achievements, a paper by Jonklaas remains one of the ten most cited in the journal Thyroid. Previously she has been recognized with the Kaiser Permanente Award for her pre-clinical teaching.
"One of the most important people I have to thank is Karen Gale. She was incredibly supportive when I was going up to tenure — and if you knew Karen Gale, you know 'supportive' is an understatement," said Jonklaas.
Honored by Mentees and Patients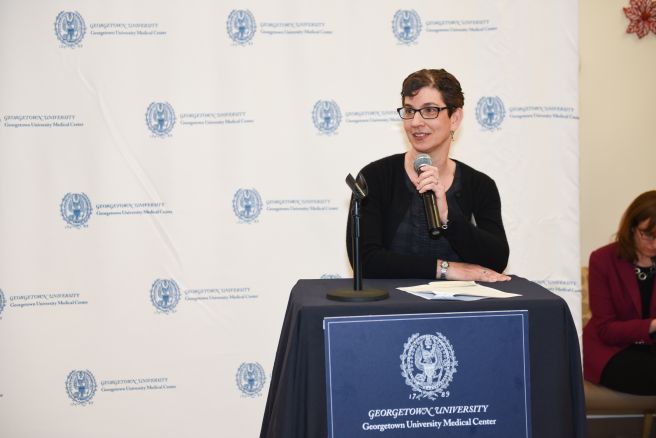 The Estelle Ramey Mentorship Award went to Claudine Isaacs, MD, professor in the departments of medicine and oncology. In an excerpt from her nomination letter, a mentee said, "Her extensive clinical and research experience has been fundamental in guiding me to ask questions that are clinically relevant and make connections with other collaborators that have been decisive to further develop my research."
"I think mentoring is a two-way street," said Isaacs. "We learn from them and they keep us energized."
Rosemary Kilkenny, vice president of diversity and inclusion at Georgetown University, also spoke about Isaacs. Kilkenny was Isaacs' patient over 20 years ago.
"I can attest to her brilliance as a physician and her compassion toward me. I attribute my strength and resolve to Dr. Isaacs," said Kilkenny.
The final award, the John Eisenberg Career Development Award, is given to four women faculty members who show the most leadership potential within GUSOM and MGUH and are selected to attend the Association of American Medical Colleges' Faculty Professional Development Seminar. This year's awardees are:
   Huei-Ting Tsai, PhD, assistant professor in the department of oncology,
   Hilary T. Wolf, MD, assistant professor in the department of pediatrics,
   Megha Shah Fitzpatrick, MD, associate professor in the department of pediatrics, and
   Ayesha Shajahan-Haq, PhD, assistant professor in the department of oncology. 
GUMC to Address Possible Inequities
In his remarks, Edward B. Healton, MD, MPH, executive vice president for health sciences and executive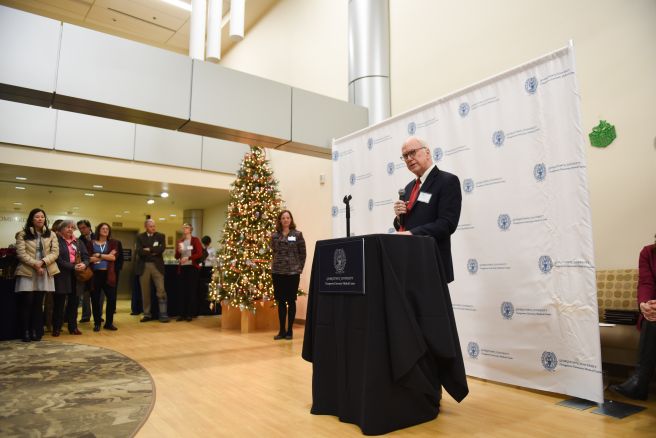 dean of the School of Medicine, pointed out that the engagement work at GUMC benefits from the advocacy of GWIM's priorities.
In that vein, Healton announced GUMC's plans to carry out and complete a review of University-employed GUMC faculty salaries during the remainder of this academic year. If any salary inequity issues are identified, implementation of appropriate adjustments will begin in fiscal year 2018. 
Michael Sachtleben, president of MGUH, also addressed attendees, expressing his gratitude to GWIM for its continued advocacy and noted that "diversity must be purposeful."
Leigh Ann Sham
GUMC Communications