About Edward B. Healton, MD, MPH
Executive Vice President for Health Sciences
Executive Dean School of Medicine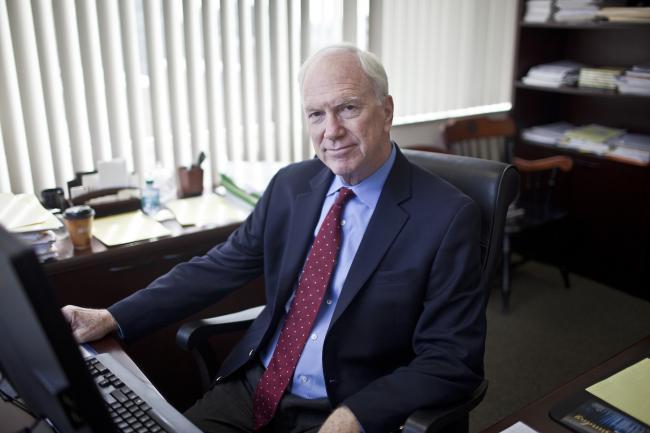 Edward B. Healton, MD, MPH, a professor of neurology, serves as Executive Vice President for Health Sciences at Georgetown University (EVP) and Executive Dean of the School of Medicine.
As EVP, Dr. Healton oversees a $270 million research and educational enterprise, and is responsible for advancing the educational and research missions of Georgetown University Medical Center (GUMC) and working effectively with the leadership of MedStar Health, its clinical partner. GUMC comprises the School of Medicine (founded in 1851), the School of Nursing & Health Studies, Biomedical Graduate Education programs and Georgetown Lombardi Comprehensive Cancer Center, and is home to Georgetown's biomedical research portfolio.
Prior to his role as EVP, Dr. Healton served as Chairman of the Department of Neurology and the Department of Rehabilitation Medicine at MedStar Georgetown University Hospital (MGUH) and Georgetown University Medical Center (GUMC) from 2006 to 2015. From 2001 to 2011, Dr. Healton also served as Senior Vice President for Medical Affairs and Medical Director of the MedStar National Rehabilitation Hospital (MNRH). After joining MedStar and Georgetown University in 2001, Dr. Healton focused on the growth of the clinical and academic programs at MNRH and MGUH, especially in the neurosciences. He is board certified in psychiatry and neurology.
Under his clinical and academic leadership, Dr. Healton leads the development of opportunities for clinical and academic collaborations across Georgetown University and MedStar Health.
After receiving undergraduate training from the University of Oregon and his medical training at Creighton University (also a Jesuit institution), Dr. Healton completed his postgraduate training in neurology in the Columbia University residency program at the Neurological Institute, New York-Presbyterian Hospital. He also completed his Master of Public Health at Columbia University. Following the completion of his training, Dr. Healton's subsequent tenure in New York included more than 30 years of clinical, academic and administrative management experience at Columbia University College of Physicians and Surgeons and Harlem Hospital Center. During that time, he served as Clinical Professor of Neurology, Senior Associate Dean and Assistant Vice President at Columbia and Medical Director at Harlem Hospital Center. He also was appointed Emeritus Professor of Clinical Neurology at Columbia University. Dr. Healton has numerous publications, especially in the areas of cerebrovascular disease and the neurological complications of systemic diseases such as cobalamin deficiency and severe hypertension, as well as community based health services research.
Dr. Healton serves on the Board of Directors of MedStar National Rehabilitation Hospital.